In Profile: Louise Dowd
Louise Dowd completed her Veterinary Nursing degree at UCD in 2013. She entered the degree programme as an alternative entry student - having initially started a degree in Commerce, she went back and repeated her leaving cert before applying to the Veterinary Nursing programme in UCD. Louise originally began the Veterinary Nursing degree with the intention of applying to a Veterinary Medicine programme upon graduation, but during her time in UCD Louise engaged in a number of veterinary practice placements and rotations which shaped a change in her career goals. Louise decided that a career in veterinary nursing was much better suited to her and she chose to continue her career path as a veterinary nurse.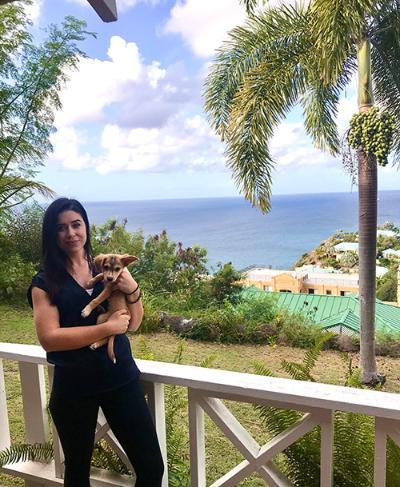 After completing her veterinary nursing degree at UCD and registering as a veterinary nurse in Ireland and the UK, Louise practiced as a locum veterinary nurse in the UK. She found work as a locum quite challenging, but also rewarding as it gave her an insight into the type of veterinary practice she wanted to work in. Louise practiced as a locum veterinary nurse in the UK for a number of small animal practices, and she held many roles from veterinary nurse to practice manager.
While Ireland was home, Louise had a great desire to travel and applied for a visa to work in Ottawa, Canada. She moved to Canada and practiced as a veterinary nurse in a mixed large animal and wildlife practice in which her main role was in the anaesthesia department. Louise was able to apply her knowledge and skills gained to date to anaesthetise a number of different species, from equine patients to alpacas. Some of her most memorable experiences in Canada include intubation of an alpaca and anaesthetic monitoring of skunks undergoing de-scenting procedures.

When her Canadian visa expired, Louise returned to Ireland and subsequently continued to practice as a locum in the UK. She then took on a full time job at a small animal referral hospital in the UK before taking up a short term position as a lecturer on the Veterinary Nursing programme in UCD. Following on from this, Louise was offered a position teaching clinical skills at Ross University School of Veterinary Medicine in St. Kitts.

Louise has since attained a full time teaching position at Ross in the Anaesthesia Department where she now teaches students on a pre-clinical veterinary medicine programme. Louise has found through her work both in UCD and in Ross that she has a passion for teaching and she plans on continuing to grow her teaching skills in the future.
Contact the UCD School of Veterinary Medicine
UCD Veterinary Sciences Centre, University College Dublin, Belfield, Dublin 4, Ireland. T:
+353 1 716 6100
|
Location Map