Research News
Nicola Fletcher - UCD Ad Astra Fellow
Nicola Fletcher recently joined the School of Veterinary Medicine as an Ad Astra fellow. Nicola first trained as a scientist with a BSc from the University of Limerick, followed by a year working in viral diagnostics at the Irish Equine Centre, and then joined UCD as a PhD student in 2002, working with Prof. Sean Callanan and Prof. David Brayden to develop an in vitro blood-brain barrier for the study of feline immunodeficiency virus neuropathology. She then continued in research as a postdoctoral researcher until 2009, before moving to the University of Birmingham to work on hepatitis C virus, with Prof. Jane McKeating.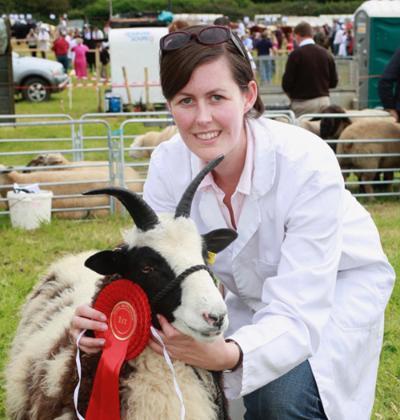 While working there, Nicola had the opportunity to work with clinician scientists, and was inspired by their clinical approach to research, so in 2014 she moved back to UCD to study Veterinary Medicine as a Graduate Entry student. After graduating from the programme, Nicola worked as a research pathologist at the Animal and Plant Health Agency (APHA-Weybridge) in the UK, where she had the opportunity to work on economically important infectious diseases including rabies, African and classical swine fever, influenza, Newcastle disease, hepatitis E, TB and prion diseases, and conducted in vivo large animal studies in high containment. She also completed part 1 of the Royal College of Pathologists' certifying examinations in veterinary pathology.
Nicola's current research is focused on a One Health approach to the study of hepatitis E virus, an emerging zoonotic viral disease that is of increasing importance as a cause of acute hepatitis. This work is a collaboration with the National Virus Reference Laboratory at UCD, and the University of Birmingham, UK. The project aims to develop ex vivo pig and human liver slice models, and blood-brain barrier models, to study hepatitis E virus infection in pigs and humans. The project is funded by an Academy of Medical Sciences Starter Grant for Clinical Lecturers. Nicola is very keen to bridge research between basic science and clinical research, particularly in the area of infectious disease research, and she hopes to build productive research links within the School and wider university in the area of One Health.

Animal health advances will be critical for future of Irish farming - Simon More

The beef prices crisis, potential cuts to the Common Agricultural Policy (CAP) and the impact of the upcoming Mercosur trade deal dominated the farming headlines in 2019. But the challenge of improving animal health is arguably one of the biggest concerns for farmers if they wish to protect their futures amid the intensifying pressure on the sector.

There are multiple benefits from improved animal health in the national herd. With approximately 85pc of our milk and 85pc of our beef exported, the quality of our national food product is critical and animal health is fundamental to this. Much of western continental Europe is already free, or moving towards freedom, from Bovine Viral Diarrhoea (BVD) and Infectious Bovine Rhinotracheitis (IBR). Freedom from these diseases will become increasingly important if Ireland is to have continued access to live export markets. There are also widespread national and EU policy changes afoot relating to disease control, eradication programmes, animal movements and antibiotic resistance. These changes will all require new approaches on the part of farmers and other industry players. From a human health perspective, improved animal health across farming can reduce the need for on-farm antibiotic usage which has a correlation with antibiotic resistance in people. The climate change crisis - and agriculture's contribution to greenhouse gas emissions - also means systemwide reform of the sector is both necessary and inevitable. Improved animal health will positively contribute to reduced emissions, primarily through improved efficiencies that require less animals per unit of output.

Increased focus on animal health is key to supporting the viability of Irish farmers' livelihoods, and also to safeguard the integrity of the food chain and to protect public health. In 2019, Ireland's well-advanced national BVD eradication programme resulted in an estimated net saving of €85 million to farmers. Further, directly as a result of ongoing improvement in milk quality due to improved mastitis control, there were additional returns of €39 million to farmers and €16 million to milk processors in 2017 when compared to 2013. The CellCheck programme has led to a substantial reduction in the use of antibiotics to treat dairy cattle.

These developments are as a result of the broader shift nationally, led by Animal Health Ireland, to a science-based partnership between government, industry and service-providers. To sustain the improvement in animal health in Ireland over the last decade, and to safeguard farming livelihoods across the country, this partnership approach will remain critical.
(Adapted from an article published by the Irish Independent on 10 January 2020)
Seventh International Conference on Mycobacterium bovis (M. bovis 2020)
The Seventh International Conference on Mycobacterium bovis (M. bovis 2020) will take place in Galway, Ireland from 8-11 June 2020. This is the third time that the Conference has come to Ireland, having also been held in England, New Zealand and Wales. M. bovis 2020 is being organised by members of the UCD School of Veterinary Medicine and the Dept. of Agriculture, Food and the Marine.
Building on the success of Cardiff 2014, M. bovis 2020 will gather together scientists, policy makers, veterinarians and industry stakeholders from around the world with the aim of identifying constraints and providing practical solutions for the control and eradication of the M. bovis.
Invited plenary speakers include members of: Anses in France, the Department of Agriculture in South Africa, VISAVET Health in Spain, Cardiff University in Wales, the International Union Against Tuberculosis and Lung Disease (The Union), the Biosecurity Advisory Service in Australia, SaBio in Spain, DEFRA in the United Kingdom, the Michigan Department of Natural Resources in the USA, the University of Liverpool in England, the Department of Agriculture, Food and the Marine in Ireland, OSPRI in New Zealand and EuFMD/FAO in Italy. Forty additional talks will be selected from submitted abstracts.
The Conference will cover a wide range of M. bovis related themes including:
One Health and zoonotic Tb

Immunology and genetics of host resistance

Management of Tb in wildlife

Social science and economics

National control strategies

Diagnostics development and strategies

Epidemiological tools and application
For further information and to register, please visit https://www.mbovis2020.com