From the Archives: W.R (Ron) Kelly - Professor of Medicine for 32 Years
'I taught veterinary medicine to every graduate from 1952 to 1984. I reckon I have taught over half the members on the Irish Veterinary Register.' Professor Ron Kelly is well remembered by many vets today as the professor who ran the medicine and pharmacology department almost single-handed in the 1950s.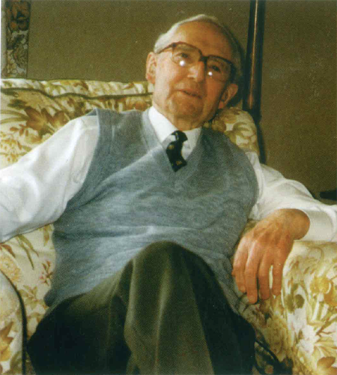 ‌
Ron Kelly was born in the Isle of Man and his family go back ten generations on the island. In those days, you didn't get a second chance when you came from a farming background so when he failed the 11 plus exam he was forced to leave school at fourteen. He got no formal secondary schooling but worked in farming until he was twenty-four. Despite working long hours, he managed to educate himself studying ten subjects and attending night classes at the local school.
Royal Veterinary College of Ireland
It took ten years of hard toil, but his dedication to education finally paid off as he passed the entrance examina­tion and was accepted at the Royal Veterinary College of Ireland. In September 1938, he started college as a mature student of twenty four years. Ron made up for lost time and showed he had found his true calling. He was a superb student and won the class medal every year for four years. He also won the Walley Memorial Prize and came second in the Fitzwygram Prize for achieving the highest exami­nation marks of all veterinary students from Britain and Ireland.
'Seeing Practice'
In his third year, he went down to 'see practice' with a vet called Coulter in Roscrea. He brought Ron everywhere on calls introducing him to the farmers as 'Mr. Kelly from Dublin.' One day in August he said 'I'm going on holiday tomorrow' and left Ron in sole charge for a month. Luckily he had plenty of confidence from his years in farming as he was plunged into casting horses, calvings, standing horse castrations and cattle castra­tions.
The Wellcome Foundation
With his brilliant academic record, he was highly recommended for a veterinary research post with the Wellcome Foundation in Kent. So in 1943, in wartime England, he started research in animal production, mainly mastitis and infertility in cattle. Over the next four years, he built up a lot of expertise in the latest techniques and most importantly was intro­duced to the new wonder drug penicillin. In fact, it was through his work at the Foundation that he was able to introduce penicillin into mainstream veterinary practice.
Dairy practice in Cheshire
Now married, he and his wife Audrey left Kent in 1947 and travelled to North Cheshire to work in general practice. Ron was thrown in at the deep end again as the boss was an alcoholic and would disap­pear on a bender for days leaving him on his own. It was a big practice with lots of shorthorn dairy cattle, some purebred Friesian herds and later Ayrshires. In those days, Cheshire farmers were desperate for milk and wanted every pint they could get. The main ailment was gross overfeeding which was treated with a drench of sodium sulphate. Practising solo, Ron developed a great rapport with the Liverpool veterinary field station at Leahurst, sending in the cases he was unable to deal with. He found that the combination of up to date expertise and clinical practice had helped him fine tune his diagnostic skills. After two years in practice, he was offered a lecturing post, teaching farm animal medicine at Liverpool University.
Professor of Medicine in Dublin
In 1952, he moved to Dublin and was to remain there for the next thirty-two years. Initially he 'worked all the hours that God sent' running the entire medicine department single-handed until the college changed hands from the Department of Agriculture to the universities in 1960. A total workaholic, he worked 16 to 18 hours some days, and studied at night preparing lectures. He even had time to write a book 'Clinical Diagnosis' that became the standard text of its day. One of his most memorable patients was the Derby winner, Golden Fleece. The horse had been suffering from mysterious bouts of colic so Professor Kelly was called in for an expert opinion. Eventually, exploratory surgery revealed tumours in the mesenteric glands and the horse was later euthanased. After the changeover in 1960, he was told he could appoint as many people as he liked. When he tentatively asked for four new staff he was told that it wouldn't be enough to cope with his huge workload. By the time he retired in 1984, this man, who never had a day's secondary schooling in his life, ended up with the largest department in the college with twelve staff members.
From Pegasus, Summer 2001