Graduate Certificate in Small Animal Medicine: Alumnus Profile - Deirdre Mullowney
Growing up in Mayo with a father as a Vet, Dee Mullowney (MVB 2010 & Grad. Cert. in Small Animal Medicine 2016) never considered choosing any career other than Veterinary Medicine. Like her father, Dee chose to study it in UCD, which she greatly enjoyed. The first thoughts that come to mind for her about her undergraduate years are 'hard work but good fun' and 'all-consuming,' and like many of her classmates, she opted to start out in mixed practice. In the years following college, Dee worked in mixed practice in Northern Ireland, New Zealand and Australia.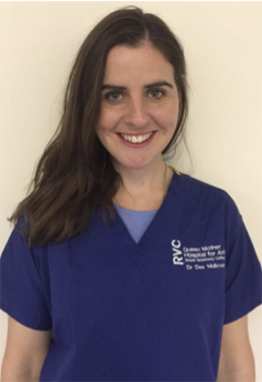 ‌
She eventually decided that as she wanted to live in a city, Small Animal Medicine was the area she should specialise in. In order to refresh her small animal knowledge and skills, Dee enrolled in the UCD School of Veterinary Medicine's Graduate Certificate in Small Animal Medicine in January 2015. The length of the course, 12 months, and the fact that it was online (with a small number of optional on-site days) were the main attractions for her.
She found the evidence-based course content relevant, useful and reinvigorating and the UCD staff working on the course were flexible, available and receptive to feedback. She believes the technology used on the course works well for students of all ages and found the technical support offered really useful. Dee says she would recommend the Graduate Certificate in Small Animal Medicine to vets at all stages of their careers, including those in sole charge, in rural practice and those on maternity leave. She considers the programme a very convenient way to attain good quality CPD and an excellent way to hone or refresh skills.
Dee will complete an internship in the Royal Veterinary College in London in July and will then begin her Residency in Small Animal Practice there.
About the Graduate Certificate in Small Animal Medicine
The Graduate Certificate in Small Animal Medicine is suitable for Veterinary Surgeons working in small animal practice who wish to develop their approach and knowledge more specifically in this area. It's also suitable for vets wishing to refresh their skills after a career break or new graduates wishing to enhance their skills base. Participants should gain the confidence to approach and manage clinical cases to a higher level.
The programme is offered as an online distance-learning course. Applicants will be expected to commit to online learning and attend an introductory session and one prescribed workshop in UCD. The programme uses a variety of innovative teaching methods designed to encourage learning and active engagement with the course material. The approaches used include e-lectures with supplementary notes and reading materials, SNAPI (reusable learning resources - click here for more information), case-based discussion boards and structured assessments with feedback. All are designed to stimulate learning in a supportive and flexible environment. ​
The next cycle of the Graduate Certificate in Small Animal Medicine will begin in September 2018. For more information please email sam.cert@ucd.ie.