Ravenswell Primary School Visit - 10 April 2018
Pupils from Ravenswell Primary School in Bray visited the UCD School of Veterinary Medicine on 10 April. Over 60 students from Ravenswell's 5th and 6th classes came to UCD with their teachers to learn more about the work of the School and how to go about pursuing a career in Veterinary Medicine. The visit was organised in conjunction with UCD Access and Lifelong Learning (ALL); UCD ALL had previously hosted students from Ravenswell for Science engagement activities in UCD, and a number of the pupils had expressed an interest in learning more about Veterinary Medicine.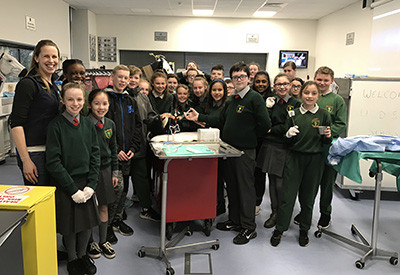 ‌
Ravenswell is a co-educational primary school; they are a Catholic school but they welcome all religions and have over 15 different nationalities attending the school. Children in Ravenswell can take part in many after-school activities, Easter and Summer camps, sports with the Sports Promotion Unit and much more. There are over 330 children in the school and more than 30 staff.
Nikki Walshe, Lecturer/Assistant Professor in Equine Clinical Studies, and a member of our Equine Field Service Team, organised the visit and met with the pupils and their teachers to talk to them about 'Vets & Pets.' Nikki spoke to the group about the responsibilities involved in pet ownership and the importance of caring for our pets properly. She also spoke about where her own interest in Veterinary Medicine came from, her experience of studying Veterinary Medicine in UCD and her career since graduating.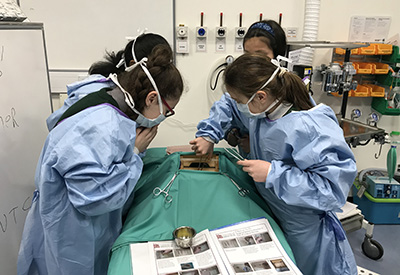 ‌
The students then had the opportunity to visit our Clinical Skills Centre where they tried their hand at milking Nora our model cow and performing surgery on a model dog. The group also met with students from our Veterinary Medicine programme to hear about how they became interested in the area and also their experience as a UCD student. All in all, it was a very energetic morning in the Vet School! Many thanks to Nikki Walshe for organising such a successful event, Máire O'Reilly, our CSC Manager for hosting the group there, and also our Veterinary Medicine students for helping out on the day.