Update on MVB Programme Evaluation
As detailed in our last Newsletter, we regularly evaluate the MVB programme to ensure that the curriculum is supporting students and graduates to attain the competencies required for success and progression in their careers. The MVB programme evaluation process has now commenced with recent graduates and employers.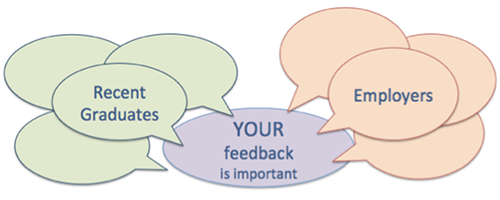 ‌
Online surveys are being distributed via email to those who graduated from the MVB programme between 2013 and 2017, and to alumni who are employers of these graduates. The surveys take 8 - 10 minutes to complete, and we greatly appreciate your time on noting your experiences of the MVB programme as a recent graduate or an employer. If you have not received an email by 31 May please contact Diane Cashman, Lecturer/Assistant Professor in Veterinary Education, on diane.cashman@ucd.ie for your copy.
In addition to the online surveys, there will also be opportunities to participate in focus groups over the coming months. Two CVE credits are available for participation in these focus groups. An employer focus group has been organised to take place at the UCD Veterinary Hospital Conference on 22 June from 8:30am to 9:30am - if you would like to participate in this focus group please contact diane.cashman@ucd.ie Alternatively, if you would like us to organise a focus group for recent graduates or employers in your region, please get in touch.
The data received from all surveys and focus groups will inform developments in the curriculum so that we can support students to attain the competencies required for Day One entry to the profession and successful progression in their careers. Thank you in advance for your valuable feedback.