In Profile: Marijke Beltman
Associate Professor Marijke Beltman graduated from the Faculty of Veterinary Medicine, University of Utrecht in 2004. She began working as an Intern in Large Animal Medicine in the UCD Veterinary Hospital in that same year and then spent a year in large animal practice in Co Mayo, before returning to UCD to undertake a combined residency and PhD programme. She obtained her PhD in 2010 in the area of early embryo development in cattle and was appointed as Lecturer in Clinical Reproduction in August of that year. In November 2010, Marijke became a diplomate of the European College of Animal Reproduction (ECAR) and she is currently president of this college.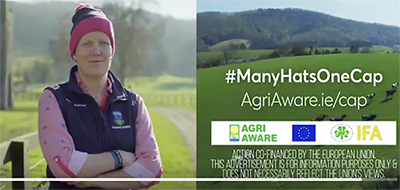 Marijke's main research interests include factors affecting early embryonic development in cattle and understanding the drivers of reduced reproductive performance in dairy cows. She teaches clinical reproduction of all species as well as farm animal medicine on both the Veterinary Medicine and Veterinary Nursing degree programmes, and spends her days between the UCD Veterinary Hospital on the main Belfield campus, UCD Lyons Research Farm as well as commercial farms. Outside of her work, Marijke is actively involved in the weekly organisation of one of the Dublin parkruns as well as participating in and organising triathlon training and competitions.
Agri Aware #ManyHatsOneCAP Campaign
Marijke is involved in Agri Aware's 2019 #ManyHatsOneCAP campaign, where she is one of the four main faces, together with a farmer (Kevin Moran), a chef (Edward Hayden) and a scientist (Dr Dayle Johnston). Marijke sees the Common Agricultural Policy (CAP) as a vital programme for farmers in Ireland, not only ensuring that farmers will continue to have income but also making a high standard of farming possible, thus allowing for good animal health and welfare. Without CAP, the farming industry in Ireland would be severely affected, and without the farming industry there would be no clinical and preventative work for vets in this area.
Agri Aware is Ireland's agri-food educational body and the #ManyHatsOneCAP campaign aims to showcase the role the Common Agricultural Policy (CAP) plays in everyday life in Ireland.
For more on Agri Aware see: www.agriaware.ie
Contact the UCD School of Veterinary Medicine
UCD Veterinary Sciences Centre, University College Dublin, Belfield, Dublin 4, Ireland. T:
+353 1 716 6100
|
Location Map