Message from Professor Michael Doherty, Dean & Head of School
A Chairde, Cuireann sé gliondar croí orm an dara nuachtlitir a chur i láthair. I am delighted to introduce our 2nd Alumni Newsletter. I find it somewhat difficult to believe that my first year as Dean has passed so quickly, which clearly indicates that I am having a wonderful time!
The purpose of the Alumni Newsletter is to keep our Alumni in touch with all that is happening in this great vet school. On 15 September, I was particularly pleased as Dean to welcome, along with UCD President Andrew Deeks, Alumni of the Class of 1967. Colleagues Donal Brady, David Broderick, Patrick Doyle, Thomas Golden, Humphrey Murphy, Michael Spratt and I enjoyed a wonderful day of nostalgia and stories. More recently, on 8 November, we were honoured by a second visit to the school this year by Minister for Agriculture, Food and the Marine, Mr Michael Creed TD, for the launch of the XL Vets Graduate Programme. The night of Friday 10 November saw UCD bestow the Veterinary Medicine-Agricultural Science Alumni Award on Dr Des Rice, MVB, PhD, OBE, MRCVS. This prestigious award was presented to Des for his contribution to veterinary science, the veterinary professional community, animal health and welfare as well as to agriculture and to society both in Ireland and in Central America. Des's global impact began in El Salvador where he helped establish a Veterinary Diagnostic Centre and where he trained local veterinarians during a very troubled period in the history of that country. The award of the OBE for contribution to agriculture in Northern Ireland is truly a mark of distinction. In his role as business coach and mentor, Des is actively engaged with mental well-being and suicide prevention in the veterinary profession and in society more generally.
Finally, we remember with great fondness, Tommy McGeady, kind friend and mentor to many of us.
Follow the Dean on Twitter @dohertyvetdean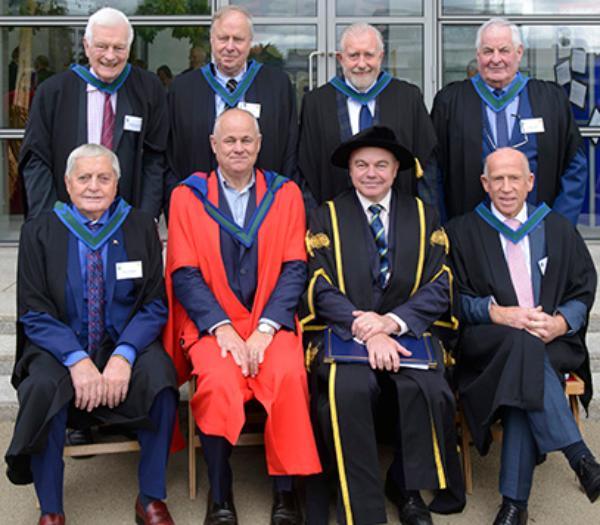 The Dean, Professor Michael Doherty, and UCD President, Professor Andrew Deeks, with Donal Brady, David Broderick, Patrick Doyle, Thomas Golden, Humphrey Murphy and Michael Spratt from the Class of 1967.

Contact the UCD School of Veterinary Medicine
UCD Veterinary Sciences Centre, University College Dublin, Belfield, Dublin 4, Ireland. T:
+353 1 716 6100
|
Location Map