In Profile: Equine Veterinary Medical Centre, Qatar
Alumni and former staff members of the UCD School of Veterinary Medicine are part of a team developing a state-of-the-art equine medical center in Qatar
Dr Florent David, Dr Jessica Johnson, Dr João de Oliveira, Ms Jackie Ryan and Dr Tatiana Vinardell utilise skills and knowledge gained during their time in the UCD School of Veterinary Medicine in their work at the Equine Veterinary Medical Centre (EVMC) in Doha, Qatar. They all agree that the skills and expertise acquired in UCD are having a real impact on the development of the EVMC project. EVMC is a state-of-the-art equine veterinary hospital with specialised clinical, laboratory and research facilities, aiming to become a leading equine hospital and research facility working to the highest international standards.
(Photo 1: João de Oliveira, Sarah Glynn, Tatiana Vinardell, Jackie Ryan & Florent David / Photo 2: Jessica Johnson)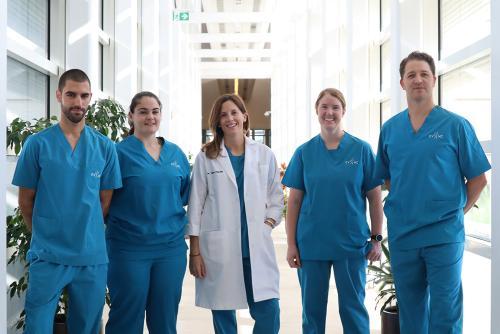 Dr Florent David
Florent graduated from the National Veterinary School of Lyon, France in 2001. He subsequently completed an Internship, a Masters degree and a Residency programme in Equine Surgery at the University of Montreal. He became a board certified specialist with the American College of Veterinary Surgeons and the European College of Veterinary Surgeons in 2007. Florent took up the post of Lecturer and Chief of Service of the Large Animal Surgery Unit at the UCD School of Veterinary Medicine in 2007. During his time in Ireland he supervised a large number of interns and residents, as well as final year veterinary students. He was granted recognition by the European College of Veterinary Diagnostic Imaging as an Associate Member (Large Animals) and became board certified with the American College of Veterinary Sports Medicine in 2012. In 2014, Florent left UCD to work in the Mid-Atlantic Equine Medical Center (USA) before returning to Europe as chief Equine Surgeon and Sports Medicine Specialist at Bjerke Dyrehospital, Oslo. He joined the EVMC in late 2017, and since then has contributed to the establishment of the hospital and has developed the surgery, diagnostic imaging and sports medicine services with his colleagues. Based on his previous work in UCD, Florent was appointed Adjunct Professor at the College of Health and Life Sciences at Hamad bin Khalifa University, Doha. His clinical and research interests are ultrasonography, tomographic imaging and lameness investigation, as well as minimally invasive surgery.
Dr Jessica Johnson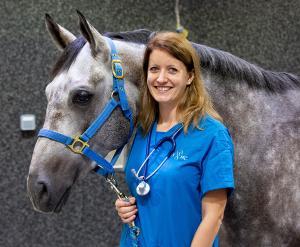 Jessica completed her initial degree in Agricultural Science (UCD) in 2006. She then went on to obtain her MVB from UCD in 2011. With the intention of specialising in equine medicine, she completed two internships, first in Dubai Equine Hospital, and then in Troytown Equine Hospital, Co Kildare, before her third, and final, equine internship in the UCD Veterinary Hospital. After this, she went into private practice for a short period, before again returning to her alma mater to undertake a residency programme in large animal surgery and a Doctorate of Veterinary Medicine Specialisation (DVMS). In 2018, Jessica became a diplomat in large animal surgery with the European College of Veterinary Surgeons. Through UCD connections, she learned about the work of the EVMC, and took up a post there in March 2018 as a senior clinical veterinarian in surgery. The time she spent as a Resident in UCD fostered her enthusiasm for academia, and since coming to Qatar she has also became an adjunct assistant professor with Hamad Bin Khalifa University. Jessica is currently utilising research skills gained in UCD to investigate small intestine anastomosis techniques and she is also supervising the final year research projects of two undergraduate Biomedical Science students from Qatar University.

Dr João de Oliveira
João obtained his DVM from UTAD, Portugal in 2016 and since then has worked in a number of equine practices. He started his career as a large animal vet, before moving to the UCD Veterinary Hospital to complete his internship in Equine Clinical Studies. During his time in UCD, João met some of his current colleagues at EVMC. He joined EVMC in January 2019 as a rotating intern. João's main areas of interest are internal medicine and critical care, and he hopes to specialize in this area in the future. He is passionate about sharing knowledge and is currently involved in research projects with EVMC, Al Shaqab and Weill Cornell Medicine – Qatar involving sand related enteropathy and metabolomics in the endurance horse.
Ms Jackie Ryan
Since leaving school in 2001, Jackie Ryan has worked as an Equine Veterinary Nurse; she graduated with a Diploma in Veterinary Nursing from UCD in 2009. Jackie considers herself to be lucky to have worked with fantastic teams in a number of different equine specialist hospitals throughout her career. In 2016, she joined the UCD Veterinary Hospital as an Equine Veterinary Nurse, where she gained experience working in a teaching environment, helping to educate the vets and vet nurses of the future. Jackie was offered a nursing position at EVMC in 2018, and the experience and knowledge she gained from working in UCD has helped her greatly in her efforts to improve and grow the facility in Qatar.
Dr Tatiana Vinardell
Tatiana studied at the National Veterinary School of Toulouse, and at the Veterinary School of Las Palmas de Gran Canaria; she received her DVM degree in 2002. She initially worked as an equine vet in France before completing an equine internship and a Masters in equine osteoarthritis from the University of Montreal in 2008. Tatiana subsequently obtained a PhD from Trinity College Dublin in Tissue Engineering Research in 2011. From 2012 to 2014, she worked in UCD as a Lecturer, first on the Veterinary Nursing programme and then in Equine Science. While in Dublin, she developed research links with UCD, TCD and the RCSI on a number of tissue-engineering projects. Since leaving UCD she has maintained good relationships with the School of Veterinary Medicine, and is particularly keen to continue to work with alumni from UCD; Michael Klotz, Veterinary Nursing Section Administrator, has been very helpful in this regard. Tatiana is now Head of Research and Education at EVMC and an adjunct professor at the College of Health and Life Sciences at Hamad bin Khalifa University where she is overseeing 12 research projects on different clinical topics and has created an ethical committee that has been approved by the Ministry of Public Health in Qatar.
For more information on the Equine Veterinary Medical Centre, see: https://www.evmc.qa/
Contact the UCD School of Veterinary Medicine
UCD Veterinary Sciences Centre, University College Dublin, Belfield, Dublin 4, Ireland. T:
+353 1 716 6100
|
Location Map