Brian Dooher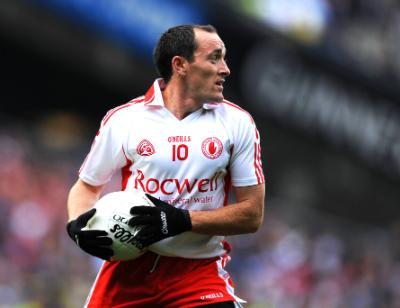 Brian Dooher graduated from UCD with a degree in Veterinary Medicine (MVB) in 1998. After initially working in private practice in Derry, he joined the Northern Ireland Department of Agriculture, Environment & Rural Affairs (DAERA) where he now holds the position of Deputy Chief Veterinary Officer. Brian also farms in his own right, and is known for breeding pedigree Texel sheep and Simmental cattle.
Brian was a member of the Tyrone Senior Football Team from 1995 to 2011, winning three All-Irelands, five Ulster Championships and two National League titles during this period. He also won three All Star Awards and six Ulster All-Stars. He played GAA for UCD, winning the Sigerson Cup in 1996 and also represented Ireland in the International Rules Series.
He was part of the Tyrone under-21 management team with Feargal Logan, and later Peter Canavan, when they won the All-Ireland in 2015, defeating Tipperary in the final. Brian was appointed co-manager of the Tyrone Senior Football Team in November 2020 alongside Feargal Logan, succeeding Mickey Harte. The team won the All-Ireland Senior Football Championship in 2021, beating Mayo in the final.
Contact the UCD School of Veterinary Medicine
UCD Veterinary Sciences Centre, University College Dublin, Belfield, Dublin 4, Ireland. T:
+353 1 716 6100
|
Location Map