My name is Mary Gallagher and I work as a Senior Technical Officer supporting pre-clinical teaching to vet students and meeting some of you during your summer research projects. I have always thought of Dawn as a magical moment of the day where the day is beginning and full of possibilities. Listening to the birds singing of its arrival and seeing the wonderful colours in the sky always fills me with positive thoughts. Since the beginning of the various lockdowns and restrictions dawn has become for me a way of holding fast to the hope of better times ahead.
I was delighted to join #weareUCDVetsandVetNurses on our journey from Darkness into Light 2021. On a grey morning in Greystones the local community came together at Ladie's Cove to greet the dawn. There was an atmosphere of anticipation and excitement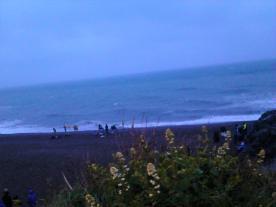 , people running, walking, cycling and even entering the sea. The coffee shops were open, donating proceeds to Pieta. It was the first community event in Greystones that I attended since the start of the lockdowns. It was just amazing and heartwarming to see (the body however had to be immersed in a hot bath to warm up on my return home). While I sincerely hope we never need to celebrate Darkness into Light in this way again, it was a genuine celebration on the day - an unexpected blessing.