Darkness Into Light 2021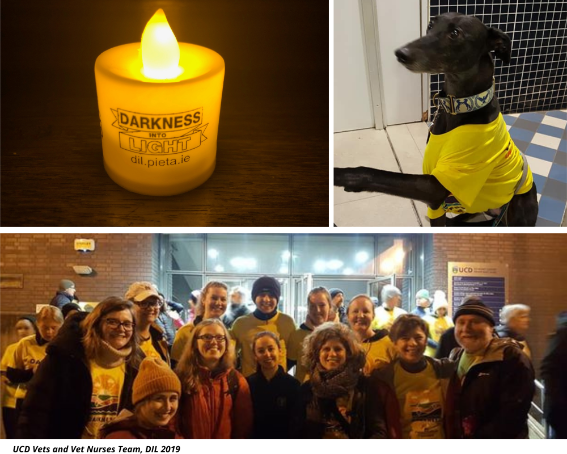 #weareUCDVetsandVetNurses
For the last number of years, students and staff of the Vet School have walked together in the Darkness Into Light event, in support of Pieta. It is a lovely tradition which brings our School community together, shows our support for the fight against suicide and self-harm and gets us all a little bit fitter!
Darkness Into Light took place on 8th May this year and people were encouraged to wake up at sunrise and take part in a way that suited them, such as walking, swimming or cycling. Several students and staff worked together as a team and raised some much needed funds for Pieta. Sincere thanks to everyone for your contributions https://www.darknessintolight.ie/fundraisers/weareUCDVetsandVetNurses.
Click on the links below to read how some of the team members got on with what turned out to be a very wet Darkness Into Light 2021! If anyone would like to share your story, please email vetathenaswan@ucd.ie.
Show/hide contentOpenClose All
My name is Mary Gallagher and I work as a Senior Technical Officer supporting pre-clinical teaching to vet students and meeting some of you during your summer research projects. I have always thought of Dawn as a magical moment of the day where the day is beginning and full of possibilities. Listening to the birds singing of its arrival and seeing the wonderful colours in the sky always fills me with positive thoughts. Since the beginning of the various lockdowns and restrictions dawn has become for me a way of holding fast to the hope of better times ahead.
I was delighted to join #weareUCDVetsandVetNurses on our journey from Darkness into Light 2021. On a grey morning in Greystones the local community came together at Ladie's Cove to greet the dawn. There was an atmosphere of anticipation and ex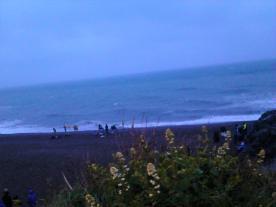 citement, people running, walking, cycling and even entering the sea. The coffee shops were open, donating proceeds to Pieta. It was the first community event in Greystones that I attended since the start of the lockdowns. It was just amazing and heartwarming to see (the body however had to be immersed in a hot bath to warm up on my return home). While I sincerely hope we never need to celebrate Darkness into Light in this way again, it was a genuine celebration on the day - an unexpected blessing.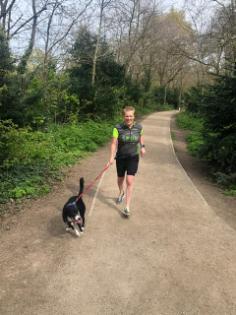 Darkness into Light for Pieta House has always been an event that I have been involved with. Starting in the Phoenix Park when it was still a relatively small event, then when it got set up in Marlay, Seapoint for the DIL swim, followed by UCD and Sandymount. It's an event that is close to my heart and always special due to the atmosphere.
While it was different this year, it was great to see so many people get involved. And if it didn't suit you to take part on the 8th May, you can still participate whenever it suits you. To prepare yourself, try and build up your stamina by going out for 20-30 minute walks initially and build up the time that you are out (walk longer) or build in a few jogs (from tree to tree or lamppost to lamppost) in your walk and take it from there. The hardest thing about going out for a walk, jog or run is getting out the door. Once you are out it's all good and once you are back you are guaranteed to feel better. You will benefit from it from both a physical and mental point of view so it's worth it! So get out and enjoy DIL 2021!
The photos of the hundreds of thousands of people as they walk Darkness Into Light, all bedecked in their yellow t-shirts, worn as beacons of hope and light against the darkness, inspire great hope, compassion and love every year.
Pieta House is a cause that's close to many of our hearts, and walking for Darkness Into Light allows us the time and space to walk together in solidarity and to think about and talk about those we've lost to suicide and those we might be concerned about in our lives.
UCD became a venue for the #DIL walk in 2018, presenting the perfect opportunity for us to organise to walk as a team in the Vet School! One of my favourite photos of all time is the photo we took on that early May morning in 2018 on our first DIL Vet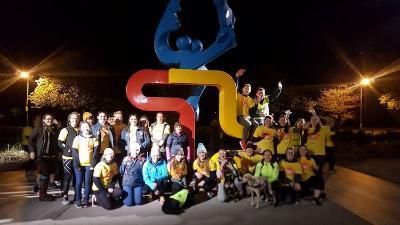 School walk. It was taken at about 4.10am, right as everyone was flooding out of the Student Centre to the starting point of the walk and right when the light of the sunrise was starting to fight (and win) against the blackness of the night. There were loads of students and staff from the School who made their way to UCD that morning, full of energy and joy, despite it being the Saturday before exams started! For students, I think it gave them a break from the books and allowed them for a few hours to just be together and have a bit of craic. When we finished, we all met up in the Student Centre for a warm cup of tea and a snack. It felt like pure bliss. This year, while we couldn't have the same photo op on our walk, I looked at this photo to remind myself that there will be togetherness again. The photo may be a bit blurry, but the feelings of solidarity, hope and warmth are crisp and clear in my memory.
#DIL2021 #weareUCDVetsandVetNurses