International Women's Day
International Women's Day takes place every year on March 8. Throughout the world, the achievements of women are celebrated and gender biases are challenged. We actively support International Women's Day here at the School of Veterinary Medicine. Click on the links to see how we have celebrated our women in recent years.
Show/hide contentOpenClose All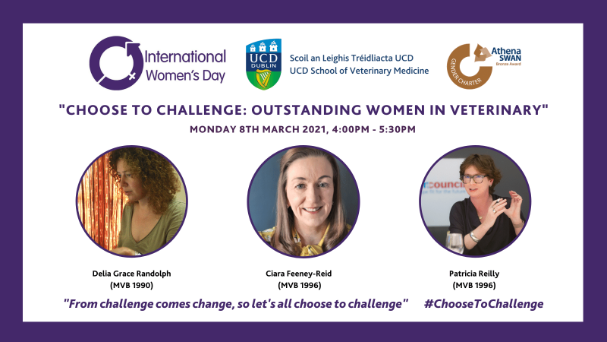 Theme: Let's all choose to challenge #ChooseToChallenge
Event: Online Panel Discussion
For International Women's Day 2021 we welcomed three UCD School of Veterinary Medicine graduates to join us for a panel discussion about how they have chosen to challenge and achieved significant success in their careers.
About Our Panel:
Delia Grace Randolph, MVB 1990
Professor of Food Safety at the University of Greenwich. Epidemiologist and veterinarian with 20 years' experience in developing countries, focussing on food safety. Leads research on zoonoses and foodborne disease at the International Livestock Research Institute in Kenya.
Ciara Feeney-Reid, MVB 1996
Veterinary practitioner, Practice Manager and Chair of the Farm Animal Welfare Advisory Group. Formerly both the youngest ever and first female President of Veterinary Ireland. Mother of a child with special needs who overcame significant health challenges that changed the trajectory of her career.
Patricia Reilly, MVB 1996
Head of Animal Welfare Division, DAFM, Patricia spent 10 years in Brussels, first as a Member of Cabinet with Commissioner Máire Geoghegan-Quinn and then Deputy Head of Cabinet for EU Commissioner for Education, Culture, Youth and Sport. Veterinary surgeon and graduate of the King's Inns, Patricia was also Ireland's first Agricultural Attaché in Central/Eastern Europe.
International Women's Day 2020
Theme: An equal world is an enabled world #EachforEqual
Event: Social media campaign
We asked some of the incredible women in the Vet School for their advice on how to help create a gender equal world. Click on the links below to see what they had to say.
Dr Marijke Beltman, Associate Professor
Felicity Fitzpatrick, MVB (Hons) Student
Dr Nicola Fletcher, Lecturer/Assistant Professor
Dr Mary Gallagher, Senior Technical Officer
Rebekah Gleeson, MVB (Hons) Student
Dr Alison Hanlon, Associate Professor
Catherine Hearne, BSc (Hons) Student
Dr Bridget Hogg, Technical Officer
Dr Lynne Hughes, Associate Professor
Oonagh Hynes, MVB (Hons) Student
Michaela Kavanagh, MVB (Hons) Student
Caitlin Kiel, MVB (Hons) Student
Dr Amy Koterbay, Lecturer/Assistant Professor
Frances LeMatti, Administrator
Dr Catherine McAloon, Lecturer/Assistant Professor
Dr Fiona McCartney, Post Doc Research Fellow Lvl 1
Katie McGrath, MVB (Hons) Student
Taylor McGrath, MVB (Hons) Student
Louise Mooney, Senior Technical Officer
Dr Niamh Nestor, Student Adviser
Dr Antonella Puggioni, Lecturer/Assistant Professor
Dr Alison Reynolds, Lecturer/Assistant Professor
International Women's Day 2019
Theme: Balance drives a better working world #BalanceforBetter
Event: Panel discussion
We invited five female veterinarian nurses to tell us about their careers to date, demonstrating the varied career paths available and the opportunities and challenges they have encountered so far. This was followed by a very lively and informative Q&A session with the audience.