Welcome - Fáilte - from Professor Rory Breathnach, Dean & Head of School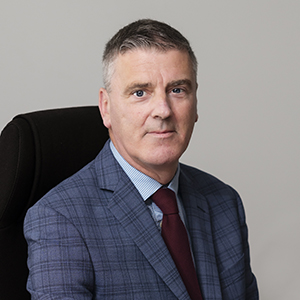 ‌As Dean and Head of School, I take great pleasure and pride in welcoming you to the UCD School of Veterinary Medicine, the only school of Veterinary Medicine on the island of Ireland. Accredited by the European Association of Establishments for Veterinary Education (EAEVE) and the Veterinary Council of Ireland (VCI), our MVB degree programme is one of only seven in Europe fully accredited by the American Veterinary Medical Association (AVMA) and Veterinary Science at UCD is currently ranked 39th in the QS World University Rankings by Subject.
Our unique 4-year BSc programme in Veterinary Nursing is accredited by the EU Accreditation Committee for Veterinary Nurse Education (ACOVENE) and the VCI. In addition to research masters (MVM, MSc) and PhD programmes, we also offer a 4-year graduate entry Veterinary Medicine programme, a Doctorate of Veterinary Medical Specialisation (DVMS), on-line graduate certificates in Dairy Herd Health, Small Animal Medicine, Equine Sports Medicine and in . Our School has a global scope, attracting undergraduate and postgraduate students from across the world including the US, Canada, India, China and throughout the EU. Our multicultural faculty includes academics from many European countries including the UK, Netherlands, Finland and Italy as well as colleagues from the US, South Africa, Jamaica and India.
Ethos, Core Values – We Support One and Other - Tugaimid tacaíocht dá chéile
The UCD School of Veterinary Medicine has an ethos founded on a collaborative way of working together, acknowledging and appreciating each other in a supportive community. The School shares the core values of this great university – excellence, integrity, collegiality, engagement, creativity, diversity and innovation.
Our Vision - Delivering Excellence – a Vet School to Flourish – Go dtiocfadh borradh faoi scoil tréidliachta
The UCD School of Veterinary Medicine - a world leader in innovative clinical training, education and 'One Health' research, delivering excellence aligned with societal and global challenges and the needs of veterinary professionals and veterinary scientists, and offering a student experience that is second to none.
Our Mission
To contribute to the flourishing of society in Ireland, Europe and the world through:
Training Veterinary Medicine and Veterinary Nursing graduates to the highest international standards
The advancement and communication of knowledge by research and scholarship
Providing the highest quality of care for our animal patients
One Health, One Welfare, our Strategic Plan for 2019 - 2024, can be accessed here.
Follow the Dean on Twitter: @RoryUCDVetDean
Find out more about the UCD School of Veterinary Medicine at the links below:
Contact the UCD School of Veterinary Medicine
UCD Veterinary Sciences Centre, University College Dublin, Belfield, Dublin 4, Ireland. T:
+353 1 716 6100
|
Location Map