UCD Veterinary Sporting Greats /
Laochra Spóirt Scoil Tréidliachta UCD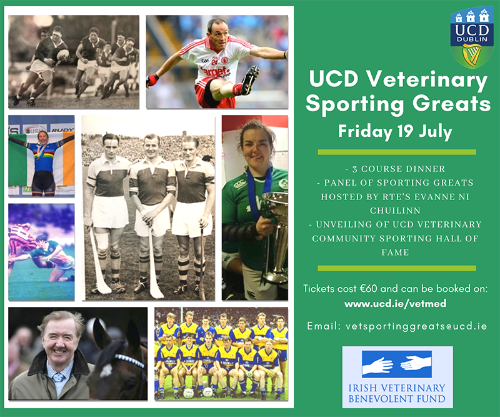 The UCD School of Veterinary Medicine is holding a celebration of veterinary sporting greatness in 2019 to mark the achievements of graduates from across all of the School's Programmes - vets, vet nurses, masters, PhDs - who have excelled in their chosen sport.
On Friday 19 July 2019, we'll host a celebratory dinner in the UCD Astra Hall to honour our sports men and women. On the night, we'll have a panel discussion, hosted by RTE's Evanne Ní Chuilinn, with some of our most high-profile sporting greats - Brian Dooher, Ger Kelly, Susie Mitchell, Derek McGrath, Shane McGuckin, Fiona O'Brien, Dermot Weld and Sue Rackard (representing Nicky Rackard). We'll also induct all of our sporting heroes into the UCD Veterinary Community Sporting Hall of Fame.
Tickets cost €60 and can be booked through the link below. Students and retirees can avail of a discounted rate of €50 - please email vetsportinggreats@ucd.ie for a discount code which can be used at checkout. Please note that some browsers may block the payment page on our Booking Centre system - the link below works best in Google Chrome.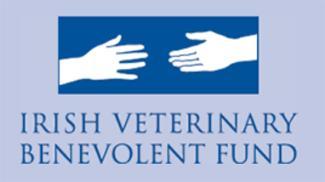 All profits from this event will go to the Irish Veterinary Benevolent Fund, which plays such an important role in supporting veterinary professionals and their families.
For further information on this event, please contact vetsportinggreats@ucd.ie
Full panel details are as follows:
Brian Dooher: member of Tyrone senior football team from 1995 to 2011, winning three All-Irelands, five Ulster Championships and two National League titles.
Ger Kelly: played football for Clare, on the team that won the Munster Championship in 1992.
Susie Mitchell: gold medal winner at the World Track Masters Championship in 2015.
Derek McGrath: Irish Rugby international, member of the 1987 World Cup squad. Chief Executive of European Rugby Cup from 2000 to 2014 and currently CEO of the Curragh.
Shane McGuckin: Offaly hurler from 1990 to 1997, winning one All-Ireland medal, two Leinster championships and one National Hurling League title.
Fiona O'Brien: Irish Women's Rugby, has played for Ireland, Leinster and Old Belvedere, where she is currently captain.
Dermot Weld: legendary racehorse trainer, celebrated 4000th winner of his career in 2016.
Nicky Rackard (represented by his niece, Sue Rackard): top championship goal-scorer of all time (59 goals), widely regarded as one of the greatest hurlers ever. Won four Leinster titles and two All Irelands with Wexford.
Contact the UCD School of Veterinary Medicine
UCD Veterinary Sciences Centre, University College Dublin, Belfield, Dublin 4, Ireland. T:
+353 1 716 6100
|
Location Map