Who would you like to see on our Alumni Wall?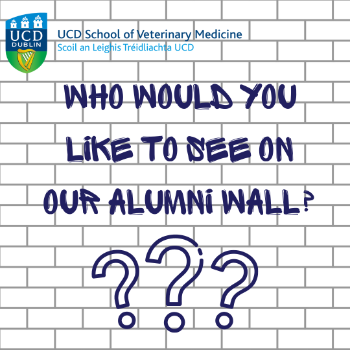 As the UCD Veterinary Sciences Centre turns 20 this Summer, we're looking to celebrate 20 of our most exceptional alumni - we're installing an Alumni Wall and we need your help!
If there's someone you think should be on our Alumni Wall, let us know - we're looking for alumni from any time since the Veterinary School was established who have excelled in their field, made a positive impact in others' lives and who exemplify our values of excellence, integrity, collegiality, engagement, creativity, diversity and innovation.
Let us know who you think deserves to be celebrated on our Alumni Wall. We will also have a digital wall on our website and will feature the final 20 alumni across our social media platforms.
If there's someone you would like to nominate, please send us the following information:
Name

Year of graduation (if known)

Brief biographical information that demonstrates the nominee's achievements and describes how they exemplify at least one of our values
Please email nominations to: vetcommunications@ucd.ie
Or complete our online nomination form by clicking here
The closing date for nominations is Wednesday 30 March
Contact the UCD School of Veterinary Medicine
UCD Veterinary Sciences Centre, University College Dublin, Belfield, Dublin 4, Ireland. T:
+353 1 716 6100
|
Location Map