Dean's Lunchtime Clinical Club - 10 October 2017 - Catherine Carty
Catherine Carty, Resident in Bovine Health Management, presented on Vagal Indigestion to a large crowd in VET114 this week. Catherine recently passed the European College of Bovine Health Management Board Exams and is now a European Specialist in Bovine Health Management. Catherine outlined that vagal syndrome is a common clinical presentation, but that there is not much in the literature on it. She began her talk by describing the highly specialist functions of the forestomachs - absorption, transport, VFA metabolism. Catherine went on to describe primary and secondary rumen contractions and what needs to happen for them to occur; she also highlighted what can interfere with these processes. Looking at the classification of vagal indigestion is not just an academic exercise, but is important for figuring out what's wrong.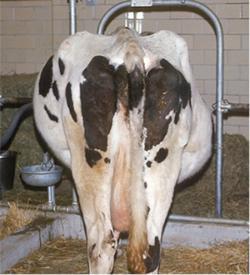 Catherine then presented a case example from the UCD Veterinary Hospital involving a 5 year old Holstein/Friesian cow, 1 week calved, with a 2 day history of inappetance and intermittent bloating of the left abdomen, mildly distended on the left, quite alert and responsive. Having access to the equipment available in a University teaching hospital is key when working with such cases, and in this case the team carried out blood tests, completed an ultrasound on the reticulum where they found a noteworthy pattern of hypermotility, and x-rays were also taken which showed multiple foreign bodies and fluid/gas interface; it was deemed likely the cow had a reticular abscess. Abdominocentesis was attempted but there was scant amount of fluid and no sample gained. The problem list was then reviewed: abdominal distension, bradycardia, hypermotile reticulum, pain, blood abnormality explained by abscess, chronic inflammation and impaired rumen motility. The diagnosis given as a result of this was traumatic reticuloperitonitis with associated type 2 vagal syndrome.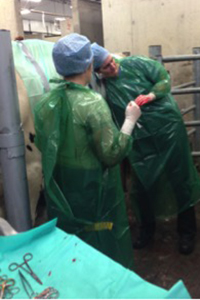 Catherine detailed the discussion with the owner that followed on from the diagnosis. One option in these cases is rest/physical restriction of movement – rest is a recognized salvage treatment, but was deemed unlikely to work in this case. The animal was prepped for a left flank laparotomy with distal paravertebral block. The cranial abdomen was explored, and the team identified one large adhesion of reticulum to ventral body wall. A rumenotomy was performed with a 3 layer approach to ensure seal. ‌
Hardware was retrieved, and the abscess in the medial reticular wall was drained. Catherine then completed the procedure with a double layer closure of the rumen; closure is very important to ensure the animal does not get an infection. Post-operative care involved rest and antibiotics. There was a slight improvement in the animal for two days after the surgery, however, after a week she was euthanized; she had continued to worsen, and was not eating at all. Catherine detailed that the prognosis in these cases depends on the level of vagal damage pre-surgery and the timing of events.‌
A post-mortem revealed reticular abscess closely adhered to liver abscess. As this was the third such case for this particular herd, the owner was advised to put a magnet in the diet feeder. In concluding her presentation, Catherine highlighted that this was a reasonably common presentation in UCDVH; exposure to such cases in the Clinical Club setting can only be useful for our pre-clinical students.
‌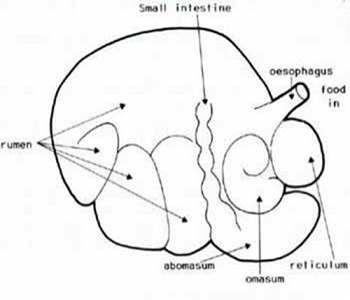 Contact the UCD School of Veterinary Medicine
UCD Veterinary Sciences Centre, University College Dublin, Belfield, Dublin 4, Ireland. T:
+353 1 716 6100
|
Location Map