Dean's Lunchtime Clinical Club - 30 January 2018 - Caroline Hewson
Caroline Hewson MVB PhD MRCVS (The Pet Loss Vet) | www.thepetlossvet.com
Euthanasia Decision-Making: Learn About It Now To Avoid Stress Once You're Qualified
This semester's Dean's Lunchtime Clinical Club opened with a talk from Caroline Hewson, The Pet Loss Vet, on euthanasia decision-making. Caroline began by outlining that the thinking around this subject tends to be that it's all about common sense and experience – but where does that leave new graduates and their clients? A survey from 2007 detailed that 65% of graduates felt that they were not equipped to deal with euthanasia on qualification; there is a particular skillset needed around this in addition to their acquired technical knowledge. Most vets will deal with around 100 euthanasia cases per year, this could be more for nurses, and this is demanding and emotionally draining work.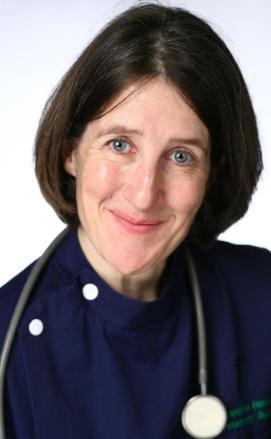 Caroline described grief as a normal reaction to the loss of an 'attachment' figure; it's an automatic psychological and behavioural response. She then went on to detail the different styles of response to loss, describing the idea that grief occurs in 5 stages as a myth and that this idea is inaccurate and inadequate to the experience in question. People are unique, and their reactions to grief can vary from overwhelmed to controlled, and everything in between. Vets need to be in the moment and read what's in front of them when dealing with clients. Caroline outlined the importance of offering a range of information to clients which means that they are then empowered to make decisions. It's also important to affirm that what they're going through is normal, and to be empathetic. Personal and situational factors can affect grief, and for many people, in the case of an animal, it's not 'just a cat,' but can often be a link to other relationships.
Empathetic communication is also very important in this area. Caroline explained that empathy is a learned skill and highly adaptive, and that it's a myth to say that you either have it or you don't. It's important to 'understand what someone might be feeling' from facial expressions and body language; Caroline noted the seven universal facial expressions of emotion as described by Paul Ekman, and stated that it's useful to be aware of this. In dealing with clients, veterinary professionals should then reflect that understanding back to them. Empathy is not a lecture or a distraction, the client's grief should be acknowledged and validated and in doing this, there should be a focus on using empathetic wording.
It's also key to know WHEN to start discussing euthanasia, which Caroline described as a process, and not a one time event. Vets should ask themselves the 'surprise question' – would I be surprised if this animal dies within 3 to 6 months? If the answer is no, then it's time to start raising end-of-life issues with the owner.
Knowing the time for euthanasia has arrived and keeping clients responsible for decision making around this is important. Whilst the decision is often shared, consent can only come from the client. Caroline highlighted the difference between facts (clinical facts) and opinions (euthanasia as the best solution). There is a need to talk to the owner about what the animal enjoys doing, their quality of life etc. It's worth living if they're healthy and they have what they want, but if they don't, then euthanasia becomes in their interest.
This is a useful tool to work through. A is for agony or awfulness or imminent risk of these, B asks would treatment (if available) be a burden to this animal, and C looks at whether or not the animal could continue to enjoy positives in life – and this is something that only the owner can answer.
Caroline concluded by highlighting the importance of positive welfare and emphasising the need for new graduates to learn, practice and improve in this important area.
Read more about Caroline's work at: http://www.thepetlossvet.com/
Contact the UCD School of Veterinary Medicine
UCD Veterinary Sciences Centre, University College Dublin, Belfield, Dublin 4, Ireland. T:
+353 1 716 6100
|
Location Map