Each academic year, you can apply from 1st November and prior to the January 31st deadline. Please note, the application form will not be available until November.
Unfortunately not as the Performing Arts Music Scholarship is for classically trained musicians only.
You must submit a three minute video with your application. For advice on how to do this, please click on the followng link: Performing Arts Advice on How to create a self-tape. The preferred option is to provide a link to one performance only, with a maximum length of three minutes.
Problems accessing your online application? When logging in to an existing account, enter the UCD Unique ID that was sent to the email account you registered with (it begins with 'A') in the 'Email Address, ID Number or Connect Username' section, followed by your password.
Unsure if you have a UCD unique ID? To access the applications section, you would have had to either log in or created a profile. Search your email account (incl spam) for the address 'noreply@ucd.ie' to find your username details.
Forgotten your password? Click on a link that says 'Retrieve your Password', as shown below and it will ask if you would like the password sent to your email account or you can retrieve it via the security question you made when creating the account.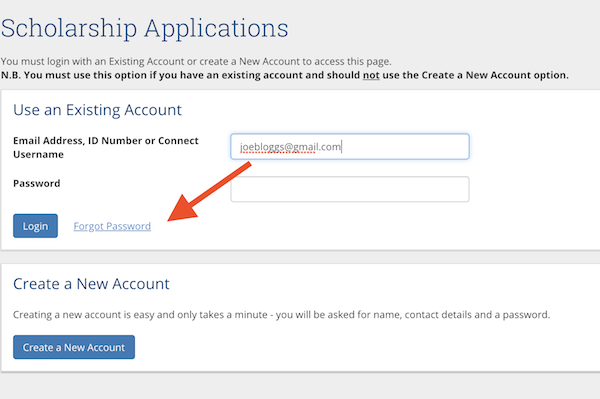 No. We welcome applications from all prospective and current UCD students regardless of the degree they choose to study.
Please fill out the application form fully and ensure that you include all relevant information on your previous experience in the performing arts and reasons for applying to the Ad Astra Academy. There is no need to provide references at the time of application. If we require any further information we will contact you directly.
Yes. However in your application you must provide information on any dramatic roles that you have had experience of performing in. If you are invited to the audition stages, please prepare one physical (dance) based audition piece and one dramatic monologue.
The Ad Astra Performing Arts panel will assess all applicants. This will take between 4-6 weeks so please do be patient. Once all applications have been assessed the panel will recommend a group to go forward to the audition stage and they will be invited to audition.
Drama auditions are typically held in April and Music auditions in May.
You will be asked to perform two contrasting pieces, to be agreed in advance with Kellie Hughes (Drama) or Dr. Ciaran Crilly (Music). You will then have a short interview with the Ad Astra Performing Arts panel. Drama applicants will also take part in a group workshop.
The maximum number of places the Performing Arts programme can have in it at any one time is 20 scholars and this is split between our music and drama programmes.
Absolutely! A year can make a lot of difference to the strength of your application so we recommend that you consider applying again if you are unsuccessful on your first attempt.
We would advise that that whilst an applicant can submit with one or more instruments, they are likely to be auditioned on just one if the application is successful.