What we do in UCD Agile arises from the following sequence
Agile's strategy delivers on the objectives set for UCD Agile by the University Management Team (UMT).
These UMT objectives are the implementation of Strategic Initiative 6.
Strategic Initiative 6 is one of the 6 strategic initiatives which support the 10 objectives of UCD's Strategic Plan 2015-2020.
UCD's Strategic Plan 2015-2020 is therefore the primary driver.
UCD Strategy 2015-2020
The 2015-2020 strategy includes six major initiatives which significantly further its objectives.
UCD Agile is the University's support vehicle for Initiative 6: Increasing Agility and Effectiveness.
Building on the considerable efficiencies that have already been achieved, we will ensure that our teaching, research and administrative processes and procedures are efficient and fit-for-purpose. We will conduct a comprehensive review of these processes using modern methodologies, and based on this review, we will identify and implement any changes necessary to bring UCD's processes to a standard of excellence as benchmarked by relevant international comparators.
In essence, our 'teaching, research and administrative processes and procedures' are all the things the University does in order to enable its education and research - the operations ecosystem. Colleagues of every kind are involved in enabling this ecosystem and so the UCD community implied by this initiative is, simply, all of us.
Agile has embarked on a journey to support this community in making UCD an even better place to work, study, teach, and research.
UMT's Objectives for UCD Agile
‌
In June 2015 UMT set the following objectives for UCD Agile in supporting increased agility and effectiveness on a long-term and sustainable basis:
Delivering value and excellence

Increased capacity to deliver value to beneficiaries of University processes
Excellence in processes as benchmarked by relevant international comparators
Increased capacity to identify and eliminate non value adding process steps in order to allow efforts to be invested elsewhere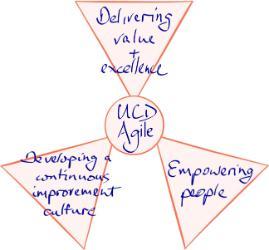 Empowering people
Appropriate devolution of authority and positive staff empowerment in order to build and develop leadership capacity and capability at all levels within the university
Enhanced capacity to capture and capitalise on creative potential across the community
Developing a Continuous Improvement culture
Enhanced institutional competence in continuous process improvement and responsiveness
Development of an embedded ethos of continuous process improvement in order to create a robust system to quickly identify and address issues and inefficiencies
'Lean' was chosen as the modern methodology to underpin our approach.
UCD Agile's strategy
UCD Agile's objectives will be met through following five main areas of activity.
Supporting Strategic Initiative 6 projects and activity – focuses on providing supports to projects and initiatives taking place in the Strategic Initiative 6 space.
Developing our capability – focuses on developing the University community's capabilities to think in and engage with the customer-focused / value-driven mind set behind the drive to increase our agility and effectiveness.
Developing the project pipeline – focuses on building a pipeline of new projects from initial conversation through to project framing and delivery.
Supporting a community of practice – focuses on fostering a community of practice centred on the established creativity, collaboration and commitment of UCD's staff, leavened with the customer and value focus of Agile and with process enhancement tools and techniques.
Connecting Agile with the academic – looks to ensure Agile connects with the teaching, learning and research activities of the University, deepening its significance beyond simple process and procedure enhancement.
UCD Agile is sponsored by Prof. Mark Rogers, Registrar and Deputy President, has a steering committee made up of senior university managers, including UMT academics, and reports to the UMT on a regular basis.
Check here (PDF) for UCD Agile's terms of reference.