Early History
Our plan for drawing Lean into UCD began, in March 2016, with an initial phase of a small number of projects with three goals - to deliver practical value through the projects, to being skills development through training, and to learn how to do more and better in the same vein.‌
In this way, UCD Agile began on the 'start small and grow' basis and was not, and is not, a monolithic 'top down' exercise: it is driven by those with practical needs and ‌problems to solve and it is guided by the learning we gather. The pipeline graphic below shows our plans in early 2016 for our route to the end of 2017.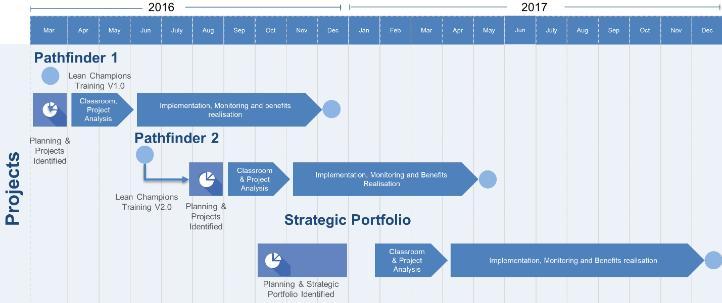 These 'pathfinder' projects were about our early steps in finding the agility/effectiveness path in UCD – 'learning through doing', our PDCA cycle.
Agile also uses this same plan-do-check-act pattern in how we provide the training and supports for those starting in Lean, in how we develop our supports outside of projects, in how we develop our web presence and, perhaps most importantly for the long term, how we support Work Smarter Together.
In the iterative spirit of 'learning through doing', what follows are some of the insights gained in the initial period to the end of 2017, used in shaping the development of Agile's offering and how it works with its various partners around the University. It should be noted that the support ecosystem in UCD very successful delivers an effective environment in which our education and research take place, a support environment shaped and developed by creative, dedicated and committed staff. While the following insights may focus more on the challenges than the successes, the successes are all around us and rightly to be celebrated.
Highlights were:
Lean Six Sigma was proven to be a clearly useful methodology for making real contributions to the efficiency and effectiveness of operations, to the empowerment of the individuals trained in it, to creating a more positive culture of improvement
The projects created success stories
We in Agile learned about the institution and how to engage with it
A great energy in front line staff was clearly demonstrated, both in the change projects and training, and seen in potential
The 'UCD Agile' brand had traction, given what it embodies (see the first bullet above)
We helped develop the Work Smarter Together experience and brand through which Agile provides its broad community supports
Insights into the institutional personality;
The 'inertia of success' - this can mean that if it works be careful not to break it, so best not to change it, and if it works we do not need to pay too much attention to whether it is efficient or how it might be better
Change as 'heading north' - not always a clear analysis of where change was starting from, an issue at various scales of initiative
The coping university - better at coping with circumstances arising then with planned and structured initiatives, a 'muscle memory' developed through coping with the severe financial and employment constraints arising from the financial crisis
Strategic plan provides a context but does not give direction - the support ecosystem did not find easy points of alignment with strategy i.e. using the then strategy as a catalyst for change was problematic
Depth of analysis/insight - in relation to the support ecosystem there was not a significant and shared analysis of how we provide our support ecosystem and what it success measures should be, an echo both of the 'inertial of success' insight and the 'strategy alignment' insight.
The silos are self-reinforcing - organisational silos, which of course can passively inhibit, can actively work against multi-domain collaboration and customer led change
Insights into people:
Obligation ('should'), necessity ('need to') and clear issues ('pain') not energisers of change on their own or only minimally
'Sunshine' and 'clouds' people - as a cartoonish exaggeration, some people bemoan how things are, wishing they were different, waiting for the cloud to go away, while other people get on with doing good things, living in and sharing the sunshine.
Unconscious continuous improvement - for folks who were always making incremental changes to what they do (many folks) the idea of doing this in a systematic way, focused on customers, with a greater likelihood of successful outcomes, was a nice to have and not a necessity
The individual - folks often came forward for training based on their individual interests (making their work more efficient/effective) and returned to teams/units which this was not a strong local driver, thus making it harder to develop their new skills.
Capability insights:
Project pipeline management - evidence of systematic improvement initiative pipelines not strong
Training as a distraction - the focus put on training in Lean Six Sigma distracted folks from the purpose of the training which is to help folks more effectively do their day job. Training was often treated as a thing in itself rather than as a means to meeting operational necessities.
Sponsor management - project leads were sometimes exposed through a lack of structured local support in their home environment, with ideal of the lead, their line manager and their sponsor being actively engaged together in ensuring the successful delivery of projects not often being met.
Project lead skill sets - project leads were often on two learning curves, one in Lean Six Sigma, one in project management, and the biggest challenges came in relation to project management strengths.
The goal overall is to make UCD a better place to teach, research, learn and work, making the best use of our resources to the best effect.