Mapping our students' experience
Seeing through the eyes of our students

There is no doubt that staff and faculty in UCD have great empathy and understanding for our students, but have you ever wondered if the student perspective of UCD really aligns with what we think?
This project reveals how our students see and navigate the complex UCD landscape. It highlights what students see as some key strengths of our University as well as some of the challenges they experience during their time as a student. You can learn more through this summary of the student perspective of UCD.
It probably comes as no surprise that students don't describe the University using the same 'organisational chart' most of us do. The student experience map illustrates how students do talk about the University, the components they break the University up into, and the language they use in doing so. This student-led description of the University has been used as the basis for this illustration of the UCD ecosystem, which shows who in UCD students encounter during their experience and how those people support students. This is proving to be a useful tool for staff/faculty explaining what the University makes available to students, or identifying who to speak to about matters relating to students. Let us know what other uses you find for this illustration.
Insights are only as valuable as the action we take as a consequence. This is an opportunity for each of us to identify ways we can individually and collectively take action to have a positive impact on their UCD experience. As a start, four projects aimed at directly improving the student experience have been encorsed by UMT SEG and UMT.
The contribution of over 200 staff/faculty and students has been instrumental to the success of this project. Experience mapping was used as the approach for uncovering the student perspective and has proven very beneficial as a tool for this purpose.
The key outputs listed above and the approach to project delivery are described in the executive summary here. The detailed reports are available by emailing agile@ucd.ie or contacting the Dean of Students. Let us know how you make use of the outputs in your role and if you have any questions be sure to get in touch.
Show/hide contentOpenClose All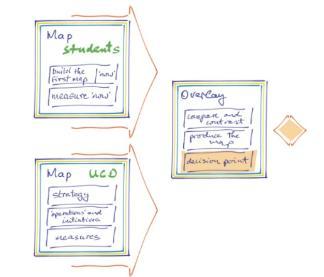 The project will be delivered through four phases. Each phase will produce outputs that feed into the next phase.
Map UCD
The 'Map UCD' phase brings staff from across the university together to create a map of the students experience from our own perspective. Not only does this work provide input to the Student Map phase (for example, as prompts for the facilitators to use in workshops) but it provides us with a detailed understanding of all the services we currently provide to students and how we currently measure performance.
Map Students
The 'Map Students' phase involves taught graduate and undergraduate students in a series of interactive workshops creating the map of their UCD experience, from their own perspective. The outputs of these workshops will provide us with an understanding of what aspects of their UCD journey most impacts students and in what way as well as an understanding of how students navigate the university.
Overlay
The 'Overlay phase takes the output of the previous two phases and through analysis determines where there are successes, gaps and opportunities. For example, perhaps there are services we provide that are of value to students, but students are not aware of them. From this phase we also develop the map that, visually, lays out UCD in a way that students can engage with effectively.
Decision Phase
The decision phase takes the outputs of the previous three phases, the learnings from the experience mapping process, the inputs from stakeholders across campus, and teases out the value of continuing to use experience mapping moving forward - and what that means in practice.
The purpose of the Student Experience Mapping Project Steering Committee (the Committee) is to oversee and support the activities of the Student Experience Mapping project as endorsed by UMT at its November 06 2018 meeting.
The members of the steering committee are:
Chair: Professor Jason Last, Dean of Students
Michael Sinnott, Director of Agile
Stephen Crosby, Education Officer, Students Union
Mellissa Plunkett, Welfare Officer, Students Union
Anne-Marie Harvey, Director Of Student Recruitment, Registry
Suzanne Bailey, Sports Development Manager, Student Services
Professor Regina Uí Chollataín, Head of School, School of Irish, Celtic Studies and Folklore
Alison Flannery, Amárach
You can read the terms of reference for the Steering Committee here.
The project team are responsible for the development and delivery of an implementation plan for each phase of the project.
The members of the project team are:
Project Manager: Olga Murdoch, UCD Agile
Aisling O'Grady, Head of Student Advisers
Emma Caron, Communications Officer, Registry
Irene Rose, Programme Manager, School of Agriculture and Food Science
Kieran Moloney, Student Advisor
Lynn Foster, Student Engagement Manager
Mags D'Arcy, Communications, Student Services
Peter Hickey, Head of Client Services, UCD Library
Please feel free to contact us at agile@ucd.ie or via our contact page.
Please feel free to contact us at agile@ucd.ie or via our contact page.