Agile Pathfinder Projects
UCD Agile*, in the 2016-2017 start-up phase, is using a project-focused approach as the catalyst for developing agility and effectiveness in UCD.
As Lean was chosen as Strategic Initiative 6's (SI6) conceptual and methodological underpinning our projects are Lean projects, with the 'agility and effectiveness' agenda set by SI6 mapping well onto Lean's 'customer focused and value driven' mind set.
Our first year's three project phases were driven by 'start small and learn by doing', learning not just how to 'do lean' but also how to plan for and manage these kinds of projects, and we will continue with this approach through to the end of 2017. By that point we will have gathered the experience we need to plan for the longer term.
See more on our approach here.
Project phasing
We began projects and training with a first phase in March 2016, started the second phase of projects in September 2016, and in November 2016 received senior management sign off for the third cycle of projects, beginning in early 2017.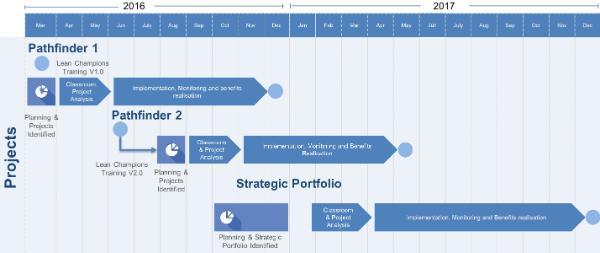 This phased approach does two things - it gives us direct experience of Lean process enhancement in UCD and allows us learn how to manage and develop process enhancement / continuous improvement overall.
Every individual project has three objectives
to deliver the value of the project itself
to train staff and provide experience, and
to provide management insight and support planning
Every project phase has a higher level objective too - for pathfinder one it was 'starting to create UCD stories', for pathfinder two it was 'developing and managing the pipeline of new projects', and for the strategic portfolio in 2017 it is 'using the voice of the Heads of School'.
Our project phasing is designed to allow us quickly learn about the culture we are changing and how best to develop our approach. (Check out Plan-Do-Check-Act: Lean six sigma in UCD for more on this cyclical, 'learning by doing' topic.)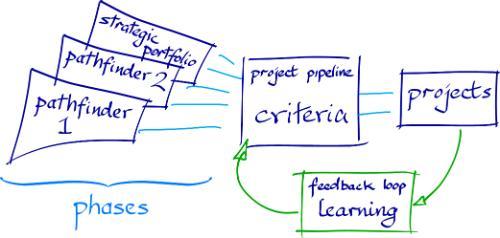 Projects have a multiplier effect when it comes to training. The 11 green belt projects in the first two phases have largely been responsible for over 190 colleagues receiving training in the months from March to December 2016. Training is not an end in itself but it is a measure, at least, of exposure to Lean and to what UCD Agile is trying to achieve. Beyond training, a focus in 2017 will be sustaining gains made by colleagues through these projects and training opportunities.
Pathfinder 1 – March to July 2016
Success for Pathfinder 1 lay in (i) addressing the individual project goals, (ii) learning how process improvement techniques can be applied in the UCD environment and (iii) being able to start to tell UCD stories of project success and the tools and techniques used to achieve it. At the heart of this are the Pathfinder projects:
Library: Module Reading Lists (Lead – Olga Murdoch, UCD Agile)
HR: Enhancing Recruitment (Lead – Michael Sinnott, UCD Agile)
Research: RMS II (Lead – Marian O'Connor, UCD Research)
Research: Output-based Research Support Scheme (OBRSS) (Lead - Liam Cleere , UCD Research)
BA Programme: BA Programme Examination Board (Lead - Marie Clarke, Dean at that time)
Pathfinder 2 – winter 2016, spring 2017
This phase continues the work of pathfinder 1, further expanding the number of projects, the number of project participants and, more broadly, the number of people exposed to the customer/value way of doing things.
The additional goal, in Pathfinder 2, is to develop our capability in identifying and selecting projects and initiatives, an approach largely centred on the support units to date.
The following six projects started training in October 2016 with the project timelines for all of them seeing closure in spring 2017.
Registry: PDARF Process Review (Lead - Sarah O'Flaherty, UCD Registry)
Registry: Scholarships and Prizes (Lead - Ciara Cloak, UCD Registry)
UCD HR: HR Revised Structure Implementation (Lead - Louise Bloomfield, UCD HR)
College of Social Sciences and Law - Programme Flyers (Lead - Niamh Walsh, CoSSL)
Bursar's Office: Asset Register (Lead - Stephen Manuel)
Bursar's Office: Research Accounts (Lead - Richael Leahy)
Strategic portfolio of projects - first half of 2017
Where pathfinder 1 and 2 were driven by a desire to begin introduce Lean Six Sigma to UCD, the individual projects were mostly based in support units - the support units were more readily 'accessible' in a project-finding sense.
The strategic portfolio of projects for 2017 is our third phase and is broader in perspective than the first two - it is driven by an agenda set by the Heads of School and is focused on delivering direct practical operational value to them and their Schools by June 2017. The planning for this phase ran from May 2016 to November 2016, with the Heads were directly involved in all discussions, and with sign-off by the University Management Team (UMT) at its 22 November 2016 meeting.
Again, this is the plan-do-check-act iterative philosophy at work. Engage with the Schools. Deliver practical value. Learn from the process. Do more.‌
Training
The pathfinder phase project leads receive training (level 7, 10 credits) and mentoring over the course of their projects. Team members and associated staff are also provided with training so they can be familiar with the tools and techniques being used in the projects. By the end of 2017, UCD Agile will have provided training for 60 Fundamentals of Lean for UCD, 90 white belts, 155 yellow belts, 13 green belts and 30 lean champions. In 2017 Agile developed its own in house training geared specifically towards UCD staff, the Fundamentals of Lean for UCD is delivered by an Agile representative who have been trained in Green Belt.
Check here for more information on training.
Project selection
The pathfinder 1 projects were selected because of their customer-focus, i.e. they are aiming to solve a problem or add value for the people at the heart of the process. The projects are based on generally understandable processes with a wide customer base.
‌
This emphasis on customer-focused / value-driven project selection is key to Pathfinder 2 as well, building on the experience of Pathfinder 1, and aiming at increasing the capacity for a process enhancement project pipeline within UCD.
The strategic element of 2017's portfolio of projects is its focus on the Head of School, and their Schools, as the customer in focus, using their priorities and their values.
Overall, as you can see from the 'project pipeline' graphic above, the goal is to be in a flow of potential projects from which we (the University) can identify and select enhancement projects. These will address both our strategic goals and our desire to make it easier to be successful in what we do, improving processes and better aligning them to their purpose.
This is the approach we have been taking in Agile.
However, not all projects need to be high profile/wide customer base projects - the tools and approach can be applied to any scale of process.
Talk to us if you have an idea.
*Language note: The 'agile' in our title simply means 'responsive and flexible'. It comes from the 'agility and effectiveness' initiative of UCD's Strategy 2015-2020.
Last updated on 03 October 2019