Charles Institute Seminar Series 2020-21, Marjana Tomic-Canic: Wound Healing- Wednesday 3rd March at later time of 1PM
Published: 26 February, 2021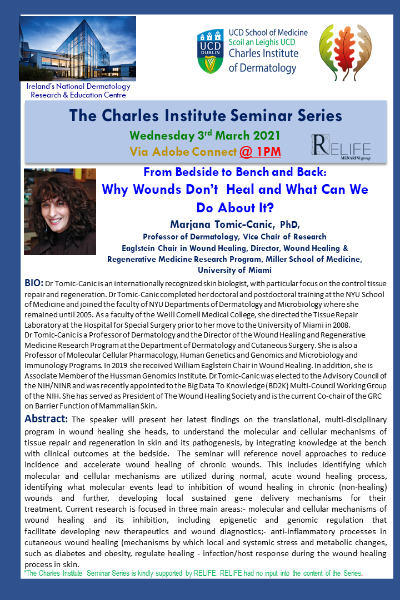 Title: From bedside to bench and back: why wounds don't heal and what we can do about it.
Date: Wednesday 3rd March 2021 at 1PM
Speaker Details: Marjana Tomic-Canic, PhD, Professor of Dermatology,Director, Wound Healing &Regenerative Medicine Research Program, Miller School of Medicine, University of Miami
BIO: Dr Tomic-Canic is an internationally recognized skin biologist, with particular focus on the control tissue repair and regeneration. Dr Tomic-Canic completed her doctoral and postdoctoral training at the NYU School of Medicine and joined the faculty of NYU Departments of Dermatology and Microbiology where she remained until 2005. As a faculty of the Weill Cornell Medical College, she directed the Tissue Repair Laboratory at the Hospital for Special Surgery prior to her move to the University of Miami in 2008.
Dr Tomic-Canic is a Professor of Dermatology and the Director of the Wound healing and Regenerative Medicine Research Program at the Department of Dermatology and Cutaneous Surgery. In addition, she is Associate Member of the Hussman Genomics Institute. Dr Tomic-Canic was elected to the Advisory Council of the NIH/NINR and was recently appointed to the Big Data To Knowledge (BD2K) Multi-Council Working Group of the NIH. She has served as President of The Wound Healing Society and is the current Co-chair of the GRC on Barrier Function of Mammalian Skin.
ABSTRACT: The speaker will present her latest findings on the translational, multi-disciplinary program in wound healing she heads, to understand the molecular and cellular mechanisms of tissue repair and regeneration in skin and its pathogenesis, by integrating knowledge at the bench with clinical outcomes at the bedside. The seminar will reference novel approaches to reduce incidence and accelerate wound healing of chronic wounds. This includes identifying which molecular and cellular mechanisms are utilized during normal, acute wound healing process, identifying what molecular events lead to inhibition of wound healing in chronic (non-healing) wounds and further, developing local sustained gene delivery mechanisms for their treatment. Current research is focused in three main areas:- molecular and cellular mechanisms of wound healing and its inhibition, including epigenetic and genomic regulation that facilitate developing new therapeutics and wound diagnostics;- anti-inflammatory processes in cutaneous wound healing (mechanisms by which local and systemic stress and metabolic changes, such as diabetes and obesity, regulate healing - infection/host response during the wound healing process in skin.
Register: charles@ucd.ie