Macromolecular Engineering by Atom Transfer Radical Polymerisation
Published: 01 August, 2016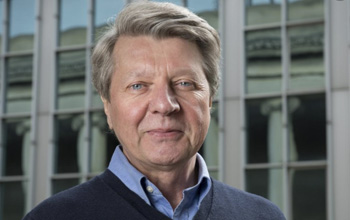 Prof Matyjaszewski - Macromolecular Engineering by Atom Transfer Radical Polymerisation
Event Start Date: Thursday 04 August 2016 10:00 AM
Location: UCD Charles Institute
Event Description:
We are delighted to welcome world renowned polymer chemist Prof Kris Matyjaszewski (Carnegie Mellon University) to University College Dublin. Prof Matyjaszewski will present a seminar entitled "Macromolecular Engineering by Atom Transfer Radical Polymerization" onThursday 4th August 2016 from 10:00 - 11:00 in the UCD Charles Institute (Seminar Room, 1st floor).
The UCD Charles Institute extends a warm invitation to academic colleagues from across UCD and from other Irish Universities and Institutes of Technology with an interest in polymer chemistry or materials engineering.
About Prof Matyjaszewski
Prof Kris Matyjaszewski is J.C. Warner University Professor of Natural Sciences at Carnegie Mellon University. He discovered Cu-mediated atom transfer radical polymerization, commercialized in 2004 in US, Japan and Europe. He has co-authored >900 publications (cited >80,000 times, h-index 138) and holds 54 US patents. He is the editor of Progress in Polymer Science. Matyjaszewski received 2015 Dreyfus Prize in Chemical Sciences, 2011 Wolf Prize in Chemistry, 2009 Presidential Green Chemistry Challenge Award, and from ACS: 2015 Overberger Prize, 2013 AkzoNobel North America Science Award, 2011 Applied Polymer Science Award, 2002 Polymer Chemistry Award. He received 9 honorary degrees and is a member of National Academy of Engineering, National Academy of Inventors, Polish and Russian Academies of Sciences.