'Solar distancing', with sunscreen
Published: 01 May, 2020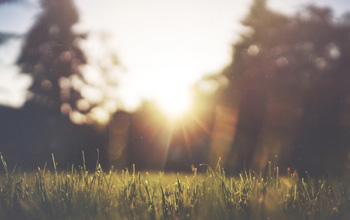 By Cian D'Arcy
At the time of writing this the 'Lockdown' due to CoVid-19 is in full swing and the effects of sun damage are hanging lowly on peoples list of concerns. However, the days are getting longer, and the suns temperature is slowly increasing as is the strength of the ultraviolet (UV) radiation it omits. With most of us confined to our homes and getting around to those gardening chores or heading on more walks, we should remember that exposed skin is still liable to the harmful effects of UV rays. Without effective protection from the sun or 'solar distancing' we are increasing our chances of developing skin cancer.
May is melanoma awareness month, and melanoma is certainly the most aggressive form of skin cancer and one which affects thousands of people a year in Ireland. Melanoma is derived from the melanocyte cells that lie on the basement membrane of the skin's epidermis. They are the cells that we must thank for sun tans, as they produce the pigment melanin. This 'extra' production of melanin (i.e. tan) is as a damage response, to the suns UV rays, in its attempt to protect other cells in the epidermis. When these sun-damaged melanocytes start to divide uncontrollably, we can get, typically, darkly coloured, irregularly shaped moles that continue to increase in size. When caught early melanoma is highly treatable with surgery, however it is during more advanced stages of the disease where the threat to life lies.
Ireland in recent years has had some of the highest death rates from melanoma in Europe, mostly in men. To borrow a phrase, it is very achievable for us as a nation to 'flatten' those numbers. To reduce these numbers, we don't need to lock ourselves away from sunlight or avoid trips to hot countries, we just need to follow some simple guidelines set out by the HSE and the Irish Skin Foundation. By simply covering up when out in the sun, wearing sunscreen on exposed skin and reapplying it often, avoiding beaches and direct sunlight at peak sunlight intensity this 'solar distancing' will stop us developing nasty sunburns and potentially developing melanoma.
So, during this lockdown ensure that there is plenty of sunscreen in the house, just because its not 30°C here doesn't mean we're protected. When out exercising, gardening or lazing on a sunny afternoon, make sure to follow the guidelines set out on sun protection. While melanoma in its later stages is often deadly, it is however a largely preventable malady. We can protect ourselves this summer in Ireland by practicing 'solar distancing'.