2016 ICS Research Award for Dr Maria Prencipe
Cancer researcher, Dr Maria Prencipe scooped the top prize at the 2016 Irish Cancer Society Research Awards held last month in the Bank of Ireland Enterprise Centre, Trinity College Dublin. The awards recognised some of the vital work being undertaken by researchers funded by the Irish Cancer Society.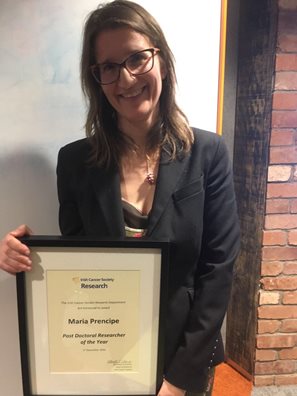 Dr Prencipe, a postdoctoral researcher in UCD Conway Institute and native of Italy, took home the Postdoctoral Researcher of the Year award for her project, which looks at metastatic prostate cancer patients, whose cancer cells have spread from the prostate to other organs.
Each year in Ireland, there are 3000 new cases of prostate cancer and 500 deaths. Despite the improvement in the treatment options available for prostate cancer patients, there are still no effective treatments when the cancer spreads outside the prostate into other parts of the body.
Maria (pictured right) is trying to understand why cancer cells do not die in response to current treatments and to use this information to develop new therapies that will work better.

"Many changes are responsible for a cancer cell to survive drug therapy. While it is difficult to block all these changes one by one, targeting the central factors that regulate them represents a better approach. Our study has identified one of these factors, the Serum Response Factor (SRF)", explained Maria.
Her work has shown that patients who did not respond to current treatments had much more SRF. She found that a new drug which blocks SRF can stop the cancer cells from dividing and surviving. When this drug is used in combination with current treatments, these are more effective in killing cancer cells.
The findings are currently being tested in pre-clinical models in collaboration with the University of Washington. Following these experiments, it is hoped that the new drug will be available to prostate cancer patients in the near future.
Maria was one of six finalists who pitched their projects to a packed audience of family, friends and Irish Cancer Society supporters. In announcing the awards, the judging panel commended all six for their strong communications skills in highlighting the importance of their work.
Dr Robert O'Connor, Head of Research at the Irish Cancer Society, highlighted the importance of communication as a tool for keeping the public aware of vital research which their donations fund:
"None of the vital research we fund would be possible without the support of the public. Since 2010 the Irish Cancer Society has invested €20 million into cancer research, so it's really important that our funded researchers can show the public the impact their work is having. Just like the Irish Cancer Society, our researchers won't give up until cancer does."
Pictured (Back, L-R) Dr Damir Vareslija, RCSI; Silvin Knight, TCD (Front, L-R) Dr Aideen Ryan, NUI Galway; Dr Maria Prencipe, UCD; Mairéad Cooney, DCU; and Lisa Dwane, RCSI.