Amgen Biotech Experience teacher recognition awards ceremony
Two teachers from secondary schools in Dublin and Donegal have received teacher recognition awards at a ceremony in University College Dublin for their involvement in a science education initiative, the Amgen Biotech Experience.

Hilary Rimbi from St Andrew's College in Blackrock, Co Dublin and Yvonne Higgins from Magh ?ne College in Bundoran, Co. Donegal were recognised for their commitment to inspire students about science by delivering a hands-on experience in working with DNA and molecular biology techniques.

Announcing the winners, Professor Walter Kolch, Director of Systems Biology Ireland in University College Dublin said, "This evening is about acknowledging the effort that every teacher involved in the programme has made to bring the excitement of scientific discovery into their classroom. In particular, Hilary Rimbi and Yvonne Higgins have enthusiastically embraced this opportunity to learn about the molecular techniques that are an integral part of our daily working lives as scientists and fundamental to producing drug therapies in the pharmaceutical industry."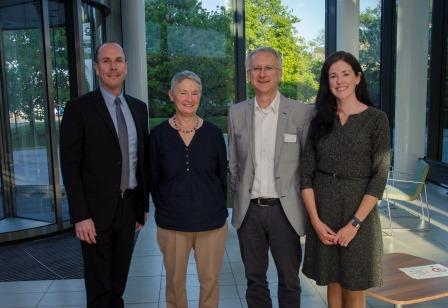 Pictured left-right: Rayne Waller, Vice President of Regional Manufacturing and Site Head at Amgen Dun Laoghaire; Hilary Rimbi, St Andrew's College, Blackrock, Co Dublin; Professor Walter Kolch, Director, Systems Biology Ireland; Dr Niamh O'Sullivan, UCD School of Biomolecular & Biomedical Science and UCD Conway Institute.

The Amgen Biotech Experience (ABE) is an international programme that trains teachers in laboratory experiments using professional grade equipment. Teachers can borrow equipment and consumables free of charge to carry out the experiments in their classrooms during the school year. The programme is funded by the Amgen Foundation, the philanthropic arm of Amgen Inc., one of the world's leading biopharmaceutical companies.

Presenting the awards, Rayne Waller, Vice President of Regional Manufacturing and Site Head at Amgen Dun Laoghaire said, "The Amgen Foundation is committed to fostering the scientific potential of a new generation. The Amgen Biotech Experience programme is designed to provide teachers with impactful training, resources and materials to deliver a high-quality experience to their students, inspiring them to pursue further education, and possibly even a career, in science."

Commenting on her award by video link, Yvonne Higgins said, "It has been a wonderful opportunity for my students…really opening up the world of biotechnology to them and offering them an experience they would never have had otherwise. It is probably the best organised and best run programme with regards to promoting science in the classroom."

In Ireland, the ABE programme is coordinated by Systems Biology Ireland, University College Dublin, in partnership with the Biomedical Diagnostic Institute, Dublin City University. Since September 2014, 150 teachers, 113 schools and more than 7800 students have participated in the ABE Ireland programme.
As part of the event, Dr Niamh O'Sullivan, UCD School of Biomolecular & Biomedical Science and UCD Conway Institute delivered lecture entitled, 'Do My Genes define Me?'
ABE Ireland teachers and principals from the following schools attended the awards ceremony: Athboy Community School|Avondale Community College|Ballinteer Community School| Blackrock College| Caritas College| Creagh College| Dominican College Griffith Avenue| Dublin Tutorial Centre| Dún Laoghaire Further Education Institute| Holy Child Killiney| Le Cheile Secondary School| Newpark Comprehensive School| Our Lady's School| Plunket College| Portlaoise College| Rockford Manor School | St Andrew's College| St. Davids Holy Faith| St. Declan's College| St. Joseph's College| St. Josephs Secondary School| St. Mary's Holy Faith Secondary School| St. Peter's College, Dunboyne| St. Raphaela's Secondary School | Temple Carrig School| The Teresian School
About
The Amgen Biotech Experience is an innovative science education programme that provides teacher professional development, teaching materials, and research-grade equipment and supplies to secondary schools. The programme features a hands-on molecular biology curriculum that introduces students to the excitement of scientific discovery. Each year, over 75,000 students and hundreds of science teachers around the world participate and have the opportunity to explore the methods scientists use to create biotechnology medicines.
The Amgen Biotech Experience Ireland (https://www.abeireland.com/) site was funded under an initial award of $123,133 (€90,530.00) to Systems Biology Ireland (SBI) at University College Dublin and the Biomedical Diagnostics Institute (BDI) at Dublin City University in May 2014. Both research centres have strong track records in delivering science education and engagement initiatives for a variety of audiences. UCD Conway Institute, the National Institute for Bioprocessing Research & Training, the Irish Science teachers Association and the Professional Development Service for Teachers are partners in this initiative.