Accelerating development of ophthalmic and cancer therapeutics
- €945,000 funding over 4-years through Horizon 2020 programme
- UCD led industry-academia research consortium will enhance intersectoral and transnational cooperation
UCD will lead a new international industry-academia consortium to accelerate the development of therapeutic interventions for cancer and eye disease through enhanced intersectoral and transnational research cooperation.
The consortium is bringing together a unique group of microbiologists, cancer biologists, chemists, material scientists, mechanical engineers, ocular pharmacologists, geneticists and toxicologists from 9 academic and 9 non-academic partner organisations in 7 countries.
Through staff exchanges of periods ranging from 1 month to 1 year, participants will learn new skills, share knowledge and have the opportunity to work on joint research and innovation projects in oncology and ophthalmology in academic and commercial institutions across Europe. The aim is to accelerate the development of therapeutic interventions for oncology and ophthalmology.
The Drug Discovery and Delivery Network for Oncology and Eye Therapeutics (3D-NEONET) consortium has been awarded €945,000, over 4 years, under the European Union's Horizon 2020 programme, Marie Sk?odowska-Curie Research and Innovation Staff Exchange (MSCA-RISE).
Dr Breandán Kennedy, Associate Professor in the UCD School of Biomolecular and Biomedical Science and a Fellow of the UCD Conway Institute will lead the 3D-NEO-NET consortium.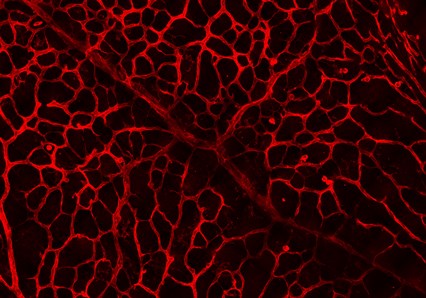 Dr Kennedy said, "Through 3D-NEONET, we will address key challenges facing research and innovation in Europe today. University graduates can struggle to transit smoothly into industry employment; research SMEs may have limited capacity to capitalise on new technology or find suitably experienced staff; and there is often unnecessary duplication of resources across Europe due to individual institutions working in isolation."

He added, "This programme is a fantastic opportunity to enhance career development, facilitate knowledge sharing and enable new skills acquisition. Ultimately, this will form a sustainable network of academics and SMEs who can collectively overcome obstacles in the development of therapeutics for oncology and ophthalmology."
Image - Retinal vasculature: Blood vessels in the developing mouse retina stained with isolectin. Credit: Dr Alison Reynolds and Jessica Davies (UCD School of Biomolecular & Biomedical Science) and Dr Dimitri Scholz (UCD Conway Institute)

Dr Javier Terriente, CSO, ZeClinics, a Spanish consortium partner said, "The goal of all 3D-NEONET institutions is to have an impact on people's health. This initiative will allow sharing knowledge and bridging experts from areas and sectors that otherwise would never meet. We are eager to share our experience in drug discovery with top students in the ocular and oncology fields. For ZeClinics students, it will be great to learn from the best minds in these relevant therapeutic areas."

Over the next four years, the proposed programme of work (see examples below) will include multiple staff exchange interactions among the 18 partners.
Pharmacologists and 3D graphic designers within the Firecrest solutions team at ICON plc in Limerick will work with staff in the University of Valladolid (Spain) and Linkoping University (Sweden), to develop 3D animations for improved management of clinical trials to promote better communication of research findings.

Dr Caroline Forkin, Senior Director Medical Affairs, ICON said, "The Firecrest solutions team is dedicated to improving the clinical trial experience for sites, investigators and patients and is delighted to be involved with 3D-NEONET. It is often at the fringes where the most divergent disciplines slightly overlap that the most innovation occurs. We believe that the size and diverse nature of this consortium will allow participants to appreciate the opportunities afforded by other disciplines and sectors."

Mycologists and chemists in UCD and ECM Ingeniería Ambiental, Spain will work together to isolate new bioactive natural products from fungi. These will then be tested in the disease models available throughout the consortium and may be selected for further development to become ophthalmic or cancer drugs.

Lentimed/HGBeyond, a Spanish-based SME developing and manufacturing contact lenses that release drug therapies directly into the eye, will work with a UCD mechanical engineer to evaluate if their patented contact lens technology can be further enhanced as drug delivery devices.

Professor Orla Feely, UCD Vice-President for Research, Innovation and Impact said, "This new pan-European ophthalmic and oncology research consortium, which University College Dublin is leading, will not only provide individual researchers with skills that can improve their career prospects, both in and outside academia, but will also boost research and innovation capacity and output among participating universities and industry partners, and ultimately impact Europe's economy and society."

She added, "It is very encouraging to see the involvement by UCD researchers from across so many disciplines in the College of Science, College of Health and Agricultural Sciences and College of Engineering and Architecture in this new consortium."

The first consortium meeting takes place in UCD on 01 - 02 February 2017.
Marie Sklodowska-Curie Research and Innovation Staff Exchange (MSCA-RISE) is a funding call under the Horizon2020 programme. Research and Innovation Staff Exchange (RISE) funds short-term exchanges for staff to develop careers combining scientific excellence with exposure to other countries and sectors. RISE enables more interaction between academia and non-academic organisations, in particular SMEs, within Europe and worldwide. The scheme fosters a shared culture of research and innovation that welcomes and rewards creativity and entrepreneurship and helps to turn creative ideas into innovative products, services or processes.
Drug Discovery & Delivery Network for Oncology & Eye Therapeutics (3D-NEO-NET)
This consortium funded under H2020-MSCA-RISE involves 18 academic and non-academic participants from within and outside Europe. They are University College Dublin (Ireland) |Instituto Universitario de Oftalmobiologia Aplicada (IOBA), University of Valladolid (Spain) | Linkoping University (Sweden) | Trinity College Dublin (Ireland) | International Iberian Nanotechnology Laboratory (Portugal) | National University of Ireland Galway (Ireland) | Queen's University Belfast (Northern Ireland) | University Complutense Madrid (Spain) Karlsruhe Institute of Technology (Germany) | ZeClinics (Spain) | HGBeyond (previously known as Lentimed) (Spain) | Experimental Pharmacology & Oncology Berlin-Buch (Germany) | Xenopat (Spain) | ECM Ingeniería Ambiental (Spain) | ICR-FireCrest (Ireland) | Ocupharm (Spain) | Vornia (Ireland) | EyeCRO (United States).