Leading the way in personalised medicine research
The inaugural UCD Personalised Medicine Showcase took place in UCD Charles Institute on Thursday, 8th June to mark the arrival of nine new TOPMed10 Marie Sklodowska-Curie Fellows who will be working on range of translational research projects in areas including nutrition, oncology, rheumatology, HIV and skin disease, incorporating novel approaches such as systems biology, bioinformatics and computational modelling.
Two of the most significant challenges in realising personalised medicine are a lack of communication and sharing of information between disciplines and sectors at the early stage of biomedical discovery and development, and the critical shortage of skilled researchers and clinicians who are trained to work across these different disciplines and sectors.

The UCD TOPMed10 Marie Sklodowska-Curie COFUND programme is a direct response to these challenges, providing training and career development to nine leading young international scientists.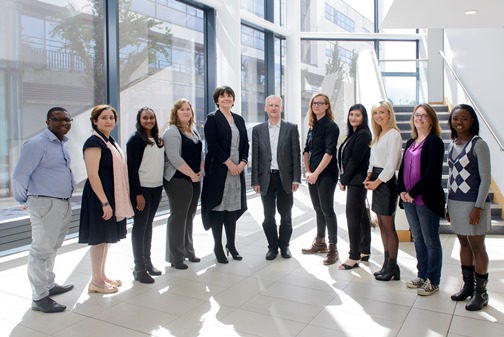 Pictured (L-R) Dr Willard Tinago, Dr Sarinj Fattah, Dr Husvinee Sundaramurthi, Dr Cheree Fitzgibbon, Prof. Orla Feely (UCD VP Research Innovation, and Impact), Prof. Walter Kolch (Director, Systems Biology Ireland; coordinator, UCD TOPMed), Dr Ariane Watson, Dr Mamoonah Chaudhry, Dr Caoileann Murphy, Dr Solene Gatault, Dr Dina Danso-Abeam.
Working across four UCD schools, two university hospitals and our three biomedical research centres, the TOPMed10 fellows are developing critical skills in an interdisciplinary, intersectoral environment. The €2.1M programme is supported by EU Horizon 2020, UCD, Science Foundation Ireland, the Health Research Board, the Department of Agriculture, Food and the Marine, ViiV Healthcare and Fighting Blindness charity.

Nine experienced international researchers, hailing from nine countries and four continents, have been supported through the programme to date: Dr Cheree Fitzgibbon, Dr Solène Gatault, Dr Sarinj Fattah, Dr Willard Tinago, Dr Dina Danso-Abeam, Dr Caoileann Murphy, Dr Ariane Watson, Dr Husvinee Sundaramurthi and Dr Mamoonah Chaudhry.

Professor Walter Kolch, Director of Systems Biology Ireland, and coordinator of the UCD TOPMed10 programme said, "We are delighted to welcome our nine new Marie Sklodowska-Curie Fellows as they begin their careers in UCD. These excellent early career researchers will help us to expand our activities in Personalised Medicine and we will provide them with a supportive working environment in which to develop their skills."

Describing the significance of the award to UCD, Professor Orla Feely, UCD Vice-President for Research Impact and Innovation said, "UCD researchers are at the forefront of the drive towards Personalised Medicine, with three highly active and successful biomedical research and training institutes: Systems Biology Ireland; UCD Conway Institute of Biomolecular and Biomedical Research and UCD Charles Institute of Dermatology. Underpinned by the activities of UCD Clinical Research Centre, as well as Schools from across the Colleges of Science and Health and Agricultural Sciences and our affiliated university hospitals, they form a key element of UCD's strategic planning in establishing a strong translational research strand that leverages UCD's strengths in systems biology, computing, bioinformatics, biomedical and clinical research."
About the UCD TOPMed10 Programme
UCD TOPMed10, Marie Sk?odowska-Curie COFUND Action, is a new International Training and Career Development Fellowship Programme at University College Dublin (UCD). The Programme offers prestigious Personalised Medicine Fellowships to experienced researchers.
The €2.1M programme is cofunded by EU Horizon 2020, UCD, Science Foundation Ireland, the Health Research Board, the Department of Agriculture, Food and the Marine, ViiV Healthcare and Fighting Blindness charity.
All Fellowships are based in UCD with an optional secondment at a partner organisation in academia or industry. With an emphasis on interdisciplinary training and career support, TOPMed10 aims to serve as a blueprint for what biomedical training can look like in the future. http://www.ucd.ie/topmed10/
About Marie Sklodowska-Curie Actions
The Marie Sk?odowska-Curie actions, named after the double Nobel Prize winning Polish-French scientist famed for her work on radioactivity, support researchers at all stages of their careers, irrespective of nationality. Researchers working across all disciplines, from life-saving healthcare to 'blue-sky' science, are eligible for funding. The MSCA also support industrial doctorates, combining academic research study with work in companies, and other innovative training that enhances employability and career development.
In addition to generous research funding, scientists have the possibility to gain experience abroad and in the private sector, and to complete their training with competences or disciplines useful for their careers. Internationally respected in industry and academia, a Marie Sk?odowska-Curie Fellowship is a recognised mark of research excellence.
Produced by William Fitzmaurice, Systems Biology Ireland