Celebrating work by the Spanish Research Society in Ireland
The Spanish Research Society in Ireland (SRSI) celebrated a successful 1st networking poster session in the UCD Conway Institute, with more than 25 Spanish researchers based in Ireland.
13 posters were presented showing a good diversity in research fields such as sperm motility in cattle, osteochondral tissue regeneration, bio-fabrication of 3D printed constructs for tissue regeneration, or studies of the Cenozoic structures in the Celtic Sea Basins.
The winner of the poster session was Estefanía Guisado, CHESS researcher in UCD, with the poster 'Caregiver control of multi-morbid disease management' and the presentation of their app.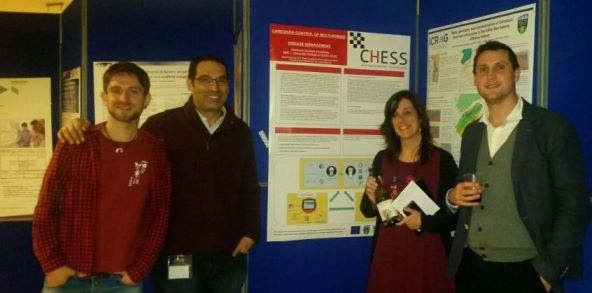 Image (l-r): Andrés Seral (TCD, organiser of the event), Alfonso Blanco (UCD, Vice President of the SRSI), Estefanía Guisado (winner of the poster session) and Ignacio Martin-Loeches (TCD, President of the SRSI).
The SRSI is a non-profit organisation of Spanish researchers living and working in Ireland. The organisation is promoted by the Spanish Ambassador to Ireland, Jose María Rodríguez Coso.
Society researchers come from academia, industry, private or public sector. They work in many different disciplines and are at different stages of their career. SRSI attempts to represent and support this community while pursuing the following objectives: networking, research support, scientific dissemination and promoting R&D activities between Spain and Ireland.
Any Spanish researcher interested in joining the Society should email: informa@srsireland.org.