Flash Talks for World Cancer Day 2017
Cancer researchers from across the Institute, Systems Biology Ireland and Breast-Predict came together on Friday, February 3rd to mark the annual World Cancer Day 2017 with twelve cancer-themed flash talks.

Each of the twelve speakers had 2 minutes and 1 concept image slide with which to convey an aspect of their work. The guiding premise was to inform, educate and entertain and the audience determined the winning talks.

Dr Dirk Fey, Research Fellow in Systems Biology Ireland won the event with his take on 'Personalised, predictive, precise: Patient-specific modelling of cancer cell signalling'. Christian Cawley, a medical student and previous Intercalated MSc within the McCann group, was runner-up with 'Drug Trafficking Along The Extracellular Highway: Bin There, Dumped That!'.

Dr Maria Prencipe, Research Fellow in the Watson group came 3rd with 4th place going to final year PhD student, Naoise Synott, from the breast cancer group of Prof Joe Duffy, based in the Education and Research Centre, St Vincent's University Hospital.

Professor William Gallagher, Institute Director was the MC for the event that was kindly sponsored by BioSciences, KSG, Clonskeagh House, Bombay Pantry and UCD Sports Centre.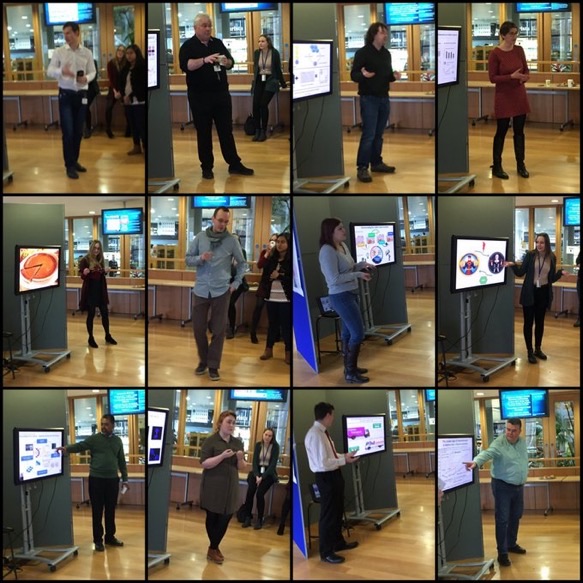 UCD Cancer 'Flash Talks' 2017 - Speakers
(left-right, top row)
Dr Oleksii Rukhlenko, Postdoctoral Fellow with Prof. Boris Kholodenko, Systems Biology Ireland
'How mathematical models can predict drug combinations to overcome resistance to targeted drug therapy?'
Professor Guenther Eissner, Prof of Translational Systems Biology, Systems Biology Ireland
'Personalised anti-angiogeneic strategies to normalise the tumour vasculature'

Dr Colm J Ryan, Sir Henry Wellcome Fellow, Systems Biology Ireland
'Identifying Synthetic Lethal Interactions in Cancer'
Alex Tusova, PhD student, Cancer Biology & Therapeutics Lab, Perry group
'How Alex is trying to GET prostate cancer'
Dr Dirk Fey, Research Fellow, Systems Biology Ireland
'Personalised, predictive, precise: Patient-specific modelling of cancer cell signalling'

Laura Tuffery, PhD student with Dr Dirk Fey, Systems Biology Ireland
'Chemo-catalog for a Tailor-made treatment'
Naoise Synott, Final year PhD student in the breast cancer group of Prof Joe Duffy, based in the Education and Research Centre, St Vincent's University Hospital
'p53: Guardian Angel Vs Rebel Angel'

Dr Arman Rahman, Marie-Curie Fellow, Cancer Biology & Therapeutics Lab, Gallagher lab
'Biomarkers for Cancer-A great promise for future.'
Rebecca Gorry, First Year PhD student with Dr Margaret McGee
'Cyclophilin A's role in cytokinesis as a potential therapeutic target in cancer'
Christian Cawley, medical student and previous Intercalated MSc, working in the McCann group
'Drug Trafficking Along The Extracellular Highway: Bin There, Dumped That!'
Dr Matthias Tacke, Associate Professor, UCD School of Chemistry
'The Golden Age of Chemotherapy?'