Research ideas worth spreading; TedxUCD 2016 videos online
UCD held its fourth annual TEDxUCD event, organised by volunteers from the UCD Research and Innovation team based at NovaUCD, during December in the UCD Dramsoc Theatre.
Opening this year's event, Professor Orla Feely, UCD Vice-President for Research, Innovation and Impact said, "Organising and running TEDxUCD is an excellent example of how we engage with the general public, not only in Ireland but across the world, to share the ideas, knowledge and expertise emanating from members of the UCD community."
The 10 speakers who took part in TEDxUCD 2016 were members of the UCD community of researchers, students, alumni and friends who spoke on a wide range of ideas worth spreading on the overall theme of 'contemplation'.
The talk videos from the event are now available to view.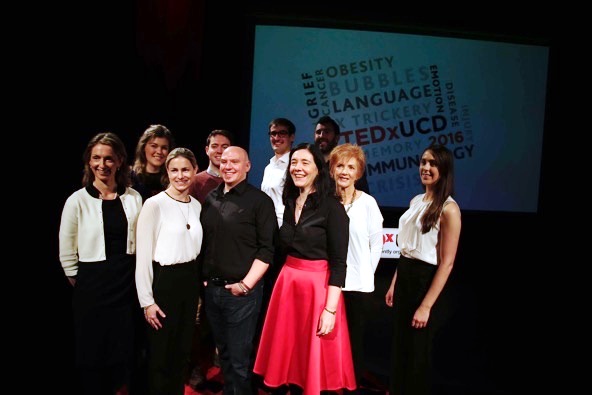 Two Conway researchers were among 10 speakers who took part in TEDxUCD 2016. Patricia Maguire is an Associate Professor of Biochemistry in UCD School of Biomolecular and Biomedical Science. She is also a Fellow of the UCD Conway Institute and co-directs the UCD Conway SPHERE translational research group.
Her research looks at the changing messages our blood can carry in inflammatory diseases such as ischaemic stroke, pre-eclampsia and multiple sclerosis. Understanding these changing messages may speed up disease diagnosis and enable better clinical decisions for the ultimate benefit of people living with such inflammatory-based diseases.
Her TEDxUCD 2016 talk is entitled, 'Tiny bubbles to clean up disease'.
Dr Andrew Hogan is a senior scientist with the obesity immunology research group led by Conway Fellow, Professor Donal O'Shea at St. Vincent's University Hospital, and a research scientist at the UCD School of Medicine.
Andrew is very passionate about childhood obesity and is keen to raise awareness of the problem and the imperative for prevention. His research focuses on the impact of obesity on the immune system and the role of the immune system in controlling bodyweight.
His TEDxUCD 2016 talk is entitled, 'Losing weight - why is it so difficult ?'.
Further information on each of the TEDxUCD 2016 speakers and the event is available via www.ucd.ie/innovation/newsevents/tedxucd/speakers/
About TEDx
In the spirit of ideas worth spreading, TEDx is a program of local, self-organized events that bring people together to share a TED-like experience. At a TEDx event, TED Talks video and live speakers combine to spark deep discussion and connection. These local, self-organized events are branded TEDx, where x = independently organized TED event. The TED Conference provides general guidance for the TEDx program, but individual TEDx events are self-organised subject to certain rules and regulations.