Dragons' Den – Involving Patients and Carers in Cancer Research
The second regional meeting of the Patient Voice in Cancer Research (PVCR) was held in Galway on Tuesday, 25th February. This patient involvement workshop was jointly hosted with the National Cancer Research Institute (NCRI), a UK-wide partnership of research funders working together to maximise the value and benefits of cancer research for patients and the public.

The aim of this workshop was for researchers to get input on specific questions or challenges that they are facing in their research projects from those individuals with a lived experience of cancer.

This was the first time for a Dragons' Den style patient involvement event was held in Ireland. The format is often used by the National Cancer Research Institute during their consumer forum meetings.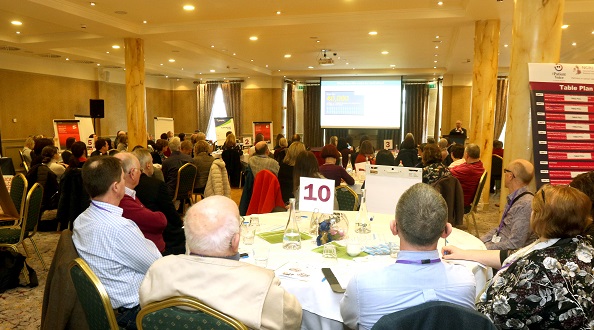 Ten research groups from around Ireland were shortlisted to host tables at the event. Each research group presented their specific question or challenge to a group of seven patients, family members, carers or patient advocates for discussion and feedback.

Topics ranged from developing an eHealth online portal to alleviate the information deficit experienced by cancer patients and survivors; gaining feedback on a home-based device for fluid management in late-stage cancer and improving awareness of cancer associated thrombosis.

In addition, several patient support, advocacy and charity groups attended the event. They included the East Galway Cancer Support, Men Against Cancer, CanCare4Living, WigWorld, Lynch Syndrome Ireland, Precision Oncology Ireland, Breakthrough Cancer and the Irish Cancer Society.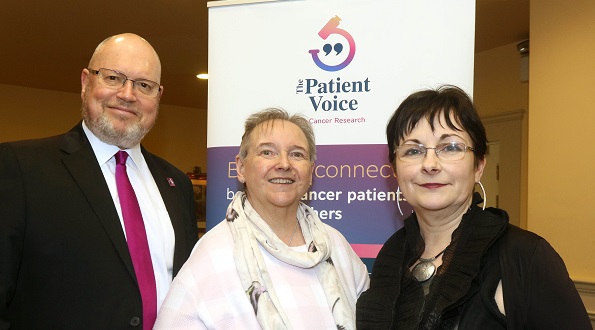 Pictured (l-r): Richard Stephens, Margaret Grayson and Professor Amanda McCann

Richard Stephens, former Chair, NCRI Consumer Forum and Margaret Grayson, MBE, Chair, Northern Ireland Cancer Research Consumer Forum co-facilitated the event.

Professor Amanda McCann, Director of the UCD Centre in Translational Oncology and PVCR Chair said, "This has been a wonderful opportunity for those who have been on a cancer journey to shape and improve current and future research projects. Equally, it was an incredible privilege for researchers to gain valuable insight on specific questions or challenges facing them in their respective cancer research projects."
Each researcher group is committed to providing feedback to the patient participants who gave input to their challenge.
A summary report of the key points from all ten tables has being compiled by Yvonne Darcy,
Darmah Research
.