UCD spin-out epiCaPture wins 2020 Start-Up of the Year Award
epiCaPture has won the UCD 2020 Start-Up Award, and its €32,000 prize fund, after being declared overall winner of the 2020 UCD VentureLaunch Accelerator Programme.
epiCaPture is a University start-up company emerging from the UCD School of Biology and Environmental Science that is led by Conway Fellow, Dr Antoinette Perry.
The company has produced a novel urine DNA test for aggressive prostate cancer to help eliminate unnecessary procedures.
The test searches for six epigenetic biomarkers that indicate the presence of aggressive prostate cancer. The results can inform clinicains on the need for a biopsy. This eliminates the need for such an invasive procedure for the majority of men with the disease and reduces healthcare costs.
The members of the epiCaPture team are Dr Antoinette Perry, Asia Jordan, Adele Connor and Ross Nelson, along with Edward Simons, a chartered accountant and former investment banker.
"We are delighted and honoured to have won the 2020 UCD Start-up of the Year Award which is testament to the research dedication and hard work of the epiCaPture team over the last number of years," said Dr Perry.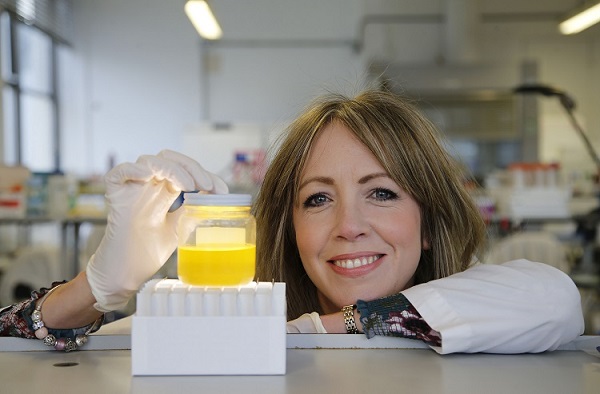 Dr Antoinette Perry with the 2020 UCD Start-Up of the Year Award
"epiCaPture performance thus far looks really promising. We're currently at the stage of validating the results in an independent cohort, and we anticipate results by mid next year."
She added: "I would like to thank all the patients in Ireland and abroad who very kindly donated a urine sample. Without their participation, none of this work would be possible.
"I would also like to acknowledge grant funding from Enterprise Ireland, the Irish Cancer Society, Movember, Science Foundation Ireland and the US Prostate Cancer Foundation, which has enabled this research."
The annual programme, run by NovaUCD, supports the creation and launch of sustainable and profitable new start-ups emerging from the University.