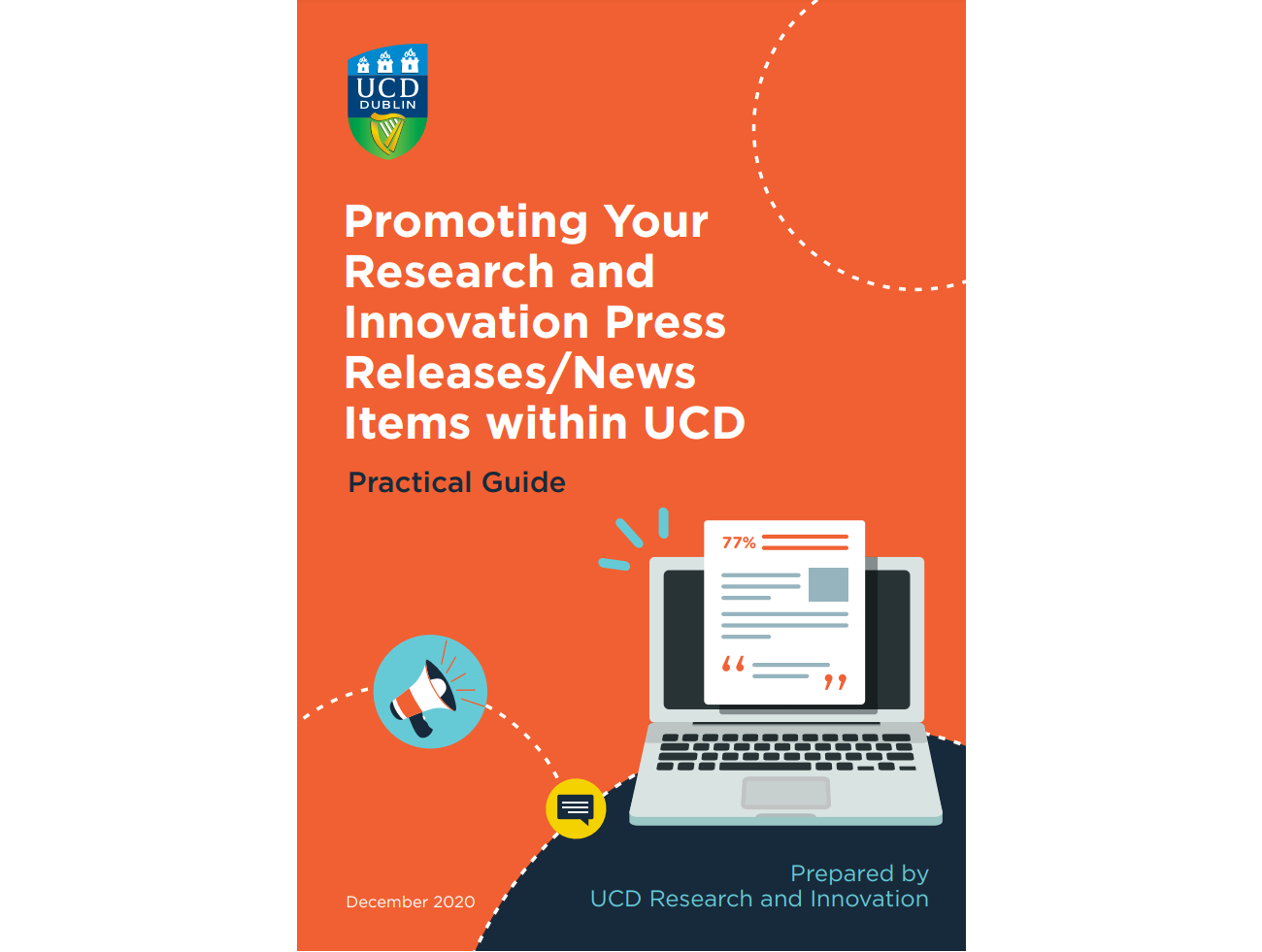 Writing for UCD
One of the easiest ways to get an article online to promote your research is to write one for your school, college, centre or project website. You can also pitch articles to ucd.ie and UCD Research, for inclusion in their news and features.
You will find local and central communications contacts on this page of the UCD Research Services Portal.
Read our practical guide to writing press releases and news stories for UCD for information on the University's communications channels and how to submit news items for them.
Features and news items can also be submitted to UCD's in-house magazine, UCD Today, or considered for inclusion on expertise.ucd.ie. See the guide above for information on how to contact these outlets.
Writing blogs
Blogging is a good way to communicate your research to both academic and non-academic audiences. It is more time consuming than using social media platforms like Twitter, but blog posts can be particularly useful for communicating some of your more complex research ideas, developing your profile and reputation as a researcher, and building an audience for your research.
Maintaining a blog requires some time investment. Try not to post too infrequently or sporadically. If you can get into a routine and publish regularly, you will be more likely to maintain an active readership. That said, don't put too much pressure on yourself to write blogs all the time. It should be fun!
If you're not interested in setting up your own blog, you could always reach out to established blogs in your field, asking them if they would be willing to cover your research. You can use Altmetric Explorer to identify some of these outlets.
For examples of successful blogs, take a look at some of these:

Coming up with ideas
There are many things you could write a blog about. For instance, you might give research updates, describe the background to your research, or explain new things you have learned through your work. You could also comment on current events, potentially through the lens of your expertise. Or you might report on a conferences or event that you attend, generating online attention in your subject area and helping promote your peers' research.
Whatever you decide to blog about, try to find your niche. The Internet is swarming with blog posts, so make yours stand out. Make your blog specific and it will be more likely to attract a following, and will rank more highly in search results.
Where possible, keep things interesting by incorporating images and videos in your blog.

Hosting your blog
These days, it is incredibly easy to set up a blog. Here are a few of the many sites you can use to get started:

Creating dialogue
You can use your blog posts to spark conversation on social media. You can also encourage your readers to add comments to your article – interaction with and between your readers will help build a community and get people coming back for more.

Monitoring your blog
You may want to set up an analytics tool, like Google Analytics, to monitor traffic and track where readers are coming from, and which blog posts they are most interested in. This can give you an indication of interest in a certain topic and possibly inform decisions over when and what to post.