Communicate creatively
With so many people vying for attention on the usual channels, some researchers are seeking novel and creative ways of communicating their research. In some cases, the production process can become a further part of the research journey and can lead to meaningful impact on society. Academic work has been communicated through media as diverse as performance art, computer games and stand-up comedy. Below are some examples from colleagues at UCD.
Influencing perceptions of prisoner mental health through theatre
Dr Catherine Cox led research into mental illness in Irish prisons from 1830 to the present day. In Ireland in 2018, over 70% of prisoners in solitary confinement, and 8% of all prisoners, suffered severe mental illnesses, a phenomenon heavily criticised by the UN.
To influence public debate on the mental health crisis in Irish prisons, Dr Cox co-created a series of events, including an award-winning play The Examination, with Dublin theatre group Brokentalkers (pictured); an art installation; an exhibition; and a second play, Disorder Contained, with theatre group Talking Birds.
The plays and art installation were toured in Ireland and UK, communicating challenging materials and histories in a way that influenced public perceptions of prisoners' right to psychiatric services in appropriate settings. Read the impact case study.
Standing up to Fatbergs!
In 2017, Associate Professor Tom Curran gained a Fulbright "TechImpact" Award at the Department of Civil, Construction and Environmental Engineering, North Carolina State University, to develop an advance warning system for sewer network blockages.
While this sounds like no laughing matter, Tom took to the stage in 2019 at a Bright Club night, and showed that stand-up comedy was a natural platform for the subject.
Bright Club Ireland is a variety night organiser, sponsored by Science Foundation Ireland, that encourages academics to channel their inner comedian and communicate their research to the public at fun stand-up gigs.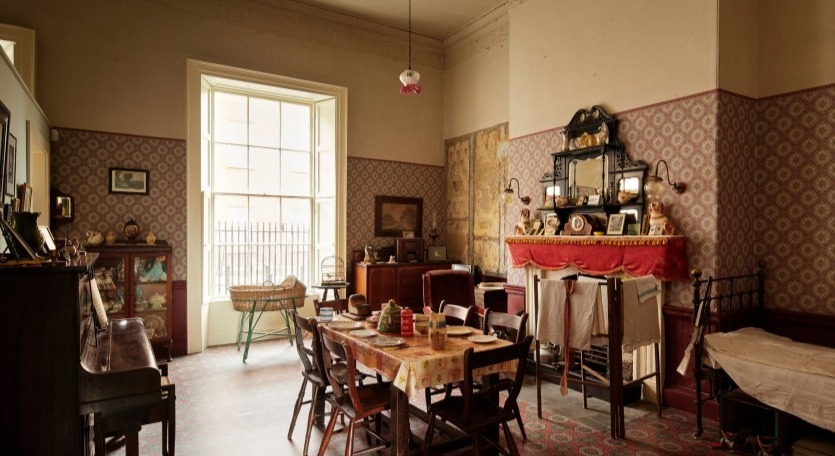 Giving oral histories a home
Dr Kelly Fitzgerald conducted a four-year research project to gather and share the stories of people who had first-hand experience of life in the Dublin tenements. The project specifically examined the memories of people who lived in tenements on Henrietta Street from the 1930s to the 1970s.
These oral histories are brought to life at 14 Henrietta Street, a mid-18th century Georgian townhouse now converted into a museum, which tells the story of the building from its origins as a residence for Dublin's elite to its incarnation as a tenement house for the city's working poor.
The museum has been critically successful and hugely popular with the public. Read the impact case study.
Gamifying typhoid history
Typhoidland is an international research and engagement project that challenges the myth that typhoid is a disease of the past, raises awareness about antimicrobial resistance, and analyses past interventions to inform current efforts to control the disease.
Dr Claas Kirchhelle and co-curator Dr Samantha Vanderslott have devised multi-award-winning exhibitions and educational content in the UK, US, Nepal, Bangladesh, India, and Ireland, including captivating animations and computer games in their award-winning world of Alice in Typhoidland.
Sharing science through a comic
Associate Professor Tom Curran and Dr David Kelleghan collaborated with Nathan T. Wright, an illustrator and artist based in Des Moines, USA, to create There's Something about Ammonia, a comic to communicate about the AmmoniaN2K project.
The creative output became very popular on social media and enabled the project to raise public awareness of ammonia emissions, their impacts, and potential solutions. It was subsequently awarded Research Project Infographic of the Year at the EPA's Researchers Awards for 2021.
Download the comic from Research Repository UCD or find versions in 16 different languages on the AmmoniaN2K project website.