The image-based social media platform
Although Higher Education is also the number one sector on Instagram for engagement per post (just as on Twitter), this activity is largely driven by students and student-focused content, rather than academics and their research.
Still, it is the world's third biggest social media platform after Facebook and YouTube (fourth if you include the messaging service WhatsApp) and is especially useful if you need to connect with students and younger audiences. It is also a very functional platform, offering different features for sharing different content formats and tools for engaging with followers.
It may prove more useful for science communication and outreach than for promoting your research, but for certain demographics it is good for raising your profile, community building and gaining feedback – particularly through quirky and entertaining content.
While Twitter is based around posting status updates, Instagram is fundamentally an image- and video-based platform. Like Twitter and LinkedIn, it uses hashtags to help users find content. But its other features are potentially the most valuable for research communication. As this is not generally a channel used for promoting research, we only provide a quick list of Instagram's tools with some examples.

Types of content
The number of ways that you can share information on Instagram – from posts to stories to reels – might be overwhelming at first. New features come and go all the time, but here's a breakdown of a few of the most prominent.
Posts
The simplest way to share an image or video clip is with a post. This is where Instagram has its roots, and it remains one of the most popular ways of using the platform. A post can consist of a single photo or video, or several in a "carousel". Here's an example of a single-image post from UCD School of Public Health, Physiotherapy and Sports Science:
View this post on Instagram

Any videos that you post will be aggregated under the "video" tab on your profile. Here's what that video tab looks like for the UCD School of Veterinary Medicine:


Stories
When you post a photo or a video as a "story", it is added to a sequential feed and people will be able to view it for 24 hours (a model very similar to Snapchat's). After that, it disappears. Because of this, stories tend to be more casual than standard posts, with users less likely to spend time curating them. They are often embellished with text, filters and special effects. Stories can also be particularly interactive. For example, you can include games, polls and quizzes in your stories, as seen in examples from the UK National Trust and National Gallery below. Learn more about Instagram Stories >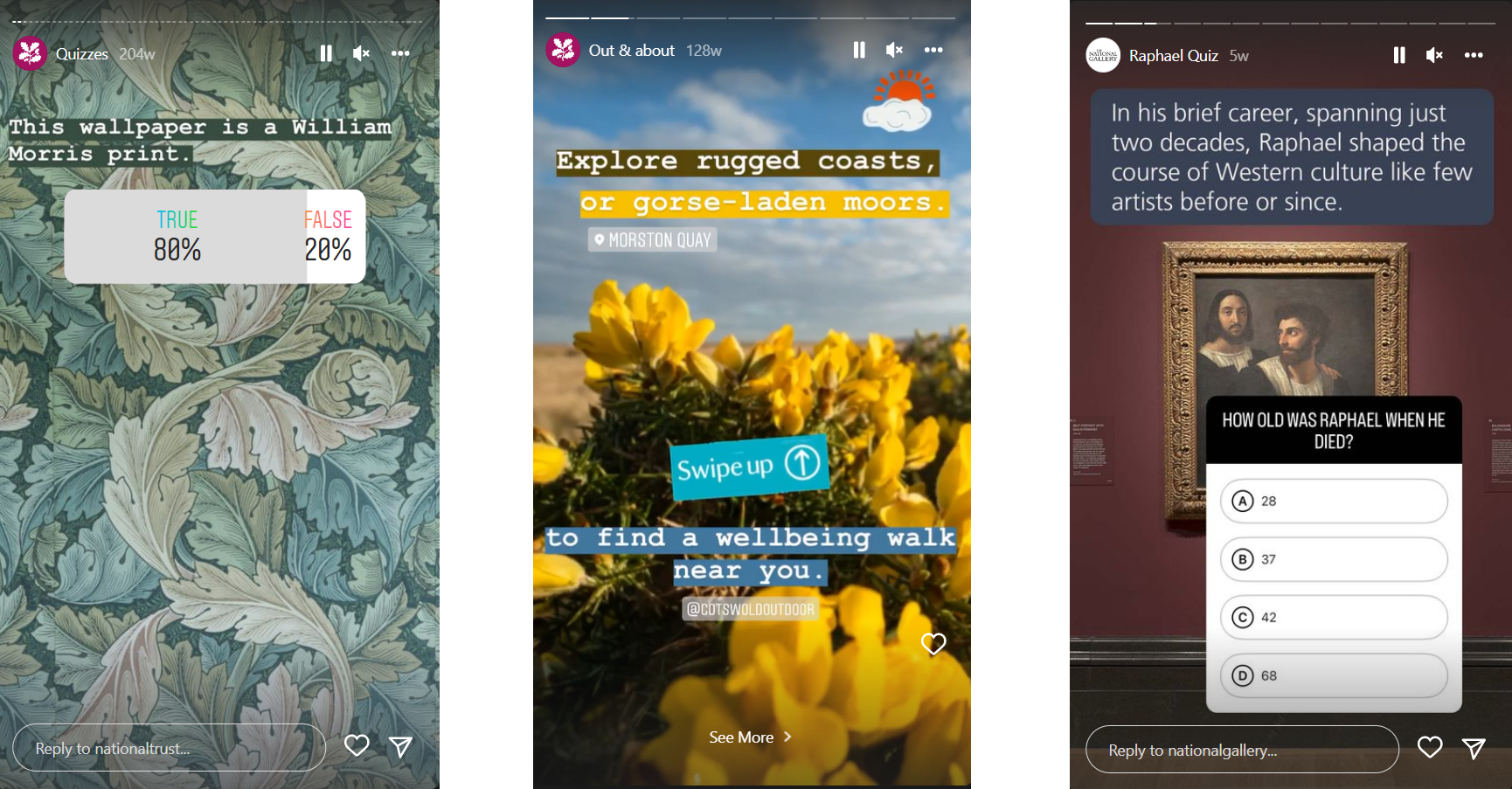 Reels
A more recent feature is Instagram's Reels, similar to TikTok, where you can record and share short videos. This is much more focused on reaching a new audience, rather than sharing posts with your followers.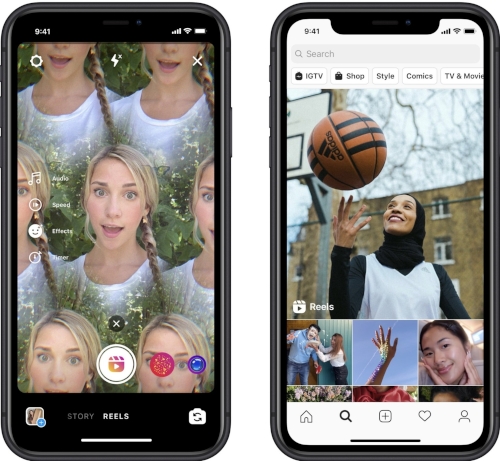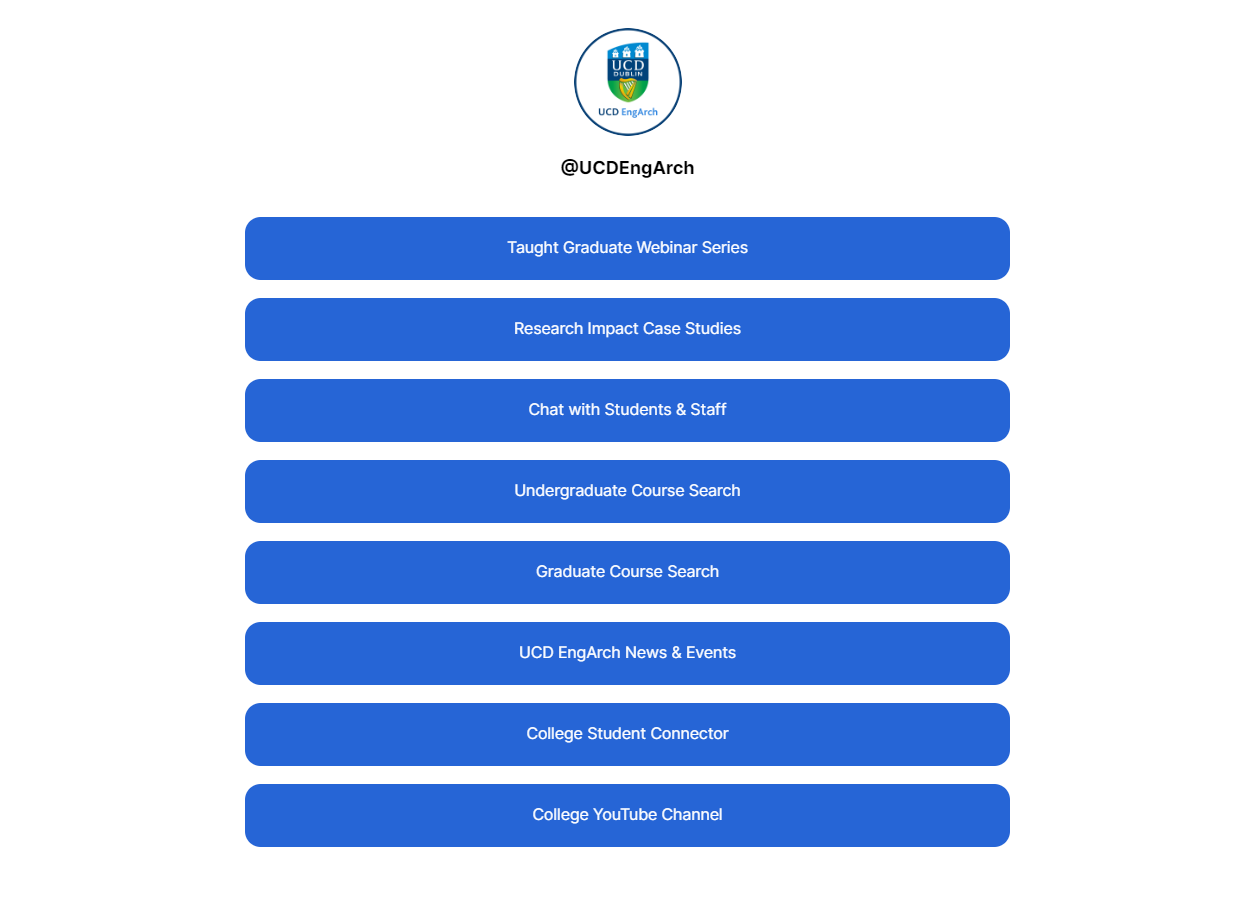 Direct attention elsewhere
You can use your presence on Instagram to draw attention to your profiles on other channels that are better suited to sharing research outputs, by using Link Tree in your Instagram bio. This app creates a simple landing page where you can add multiple links to all your other profiles or websites, so that people can discover your more serious research-related content.
Beside is an example from UCD Engineering & Architecture.