Use this guide to convey the essence of your research in plain-English, so that non-specialists can understand why you did the research, what methods you used, and what the results were.
Honing this skill will encourage a wider audience to engage with your work. Plain-English summaries are incredibly useful if you're communicating with journalists or helping pull together a press release. They also make your tweets, blogs and websites more compelling, not to mention more accessible. In addition, when you apply for funding, some funding agencies expect you to write a plain-English summary of your proposed research.
Many funders now publish plain-English summaries alongside their research articles. Take a look at some of these for inspiration. The biomedical and life sciences publisher eLife, for example, share plain-English "digests" of research. You can find more information about plain English through the National Adult Literacy Agency.

Structure your summary
Don't just throw information at the page; find a coherent way to structure your summary. An obvious approach would be to start with background information, then describe your research and findings, and finally outline any next steps. This will give you three or four easy paragraphs to write, like so:

1. Put it in context
Begin by giving the background needed so that readers can understand your work. For example, if you're researching a particular hormone, you could explain what hormones are, what they do in the body, and why this particular hormone is interesting. Or if, say, your research is on a certain artist, you might explain who they were, the period of art history they belonged to, and why they are notable. Asking yourself some of these questions might help here:
What's happening in the world that makes your research important?
What other work is it building on?
Did anyone ask you to do this? Why?
Are there any public misconceptions in your research area that you can help clear up here?
The first sentence should include something the reader can relate to. This can be anything: an animal, a body part, a period in history, a disease, a group of people. Don't start by writing about amylase, for example; introduce enzymes in general before getting more specific.
Don't be afraid of inserting yourself as a protagonist. Depending on where you plan on using the summary, you could write a first-person narrative, giving more of your own background, and explaining your interest in the topic.
In any case, consider ending the background section with a line or two that introduces the questions addressed by your research. In other words, what are the knowledge gaps?

2. Describe your research
Here's where you write about what you did and what you found. You don't need to detail every single finding, however, just the most important ones (those in your abstract).
Remember to describe how you conducted your research — what methods did you use? Any experiments? In some technical disciplines, this can be very difficult, but you should be able to come up with a sentence or two outlining any techniques at a high level.
Don't shy away from capturing your feelings here as well. How did the findings make you feel? Was there anything surprising, exciting or concerning about them?

3. Think about next steps
Consider ending your summary with a sentence or two on what might happen next. Is this research paving the way for further research in an interesting area? Is it likely to have some kind of impact on people's lives? If so, what are you doing to help that impact come about? Will it help other academics in different disciplines conduct their research?

Be concise
People are more likely to read your summary if it's short. So, try to avoid long sentences (more than 20-25 words) and long paragraphs (more than about 100), but vary sentence and paragraph length to keep things interesting. In general, you should be able to write a compelling and fairly detailed plain-English summary in about 300 words. Avoid repeating information — every sentence should say something new.
It can be tempting to go into detail on every technical or scientific concept surrounding your research. But this is unnecessary. Instead, work out what the reader needs to know in order to understand your findings, and explain this as clearly and succinctly as you can.
However, don't fall back on vague language to reduce your word count. Don't say "My research shows how diet and exercise affect rates of cancer". Instead, be specific and give a direction of effect: "My research shows that poor diet and low rates of exercise increase rates of cancer by XYZ."
Here are some specific tips for keeping your word count down: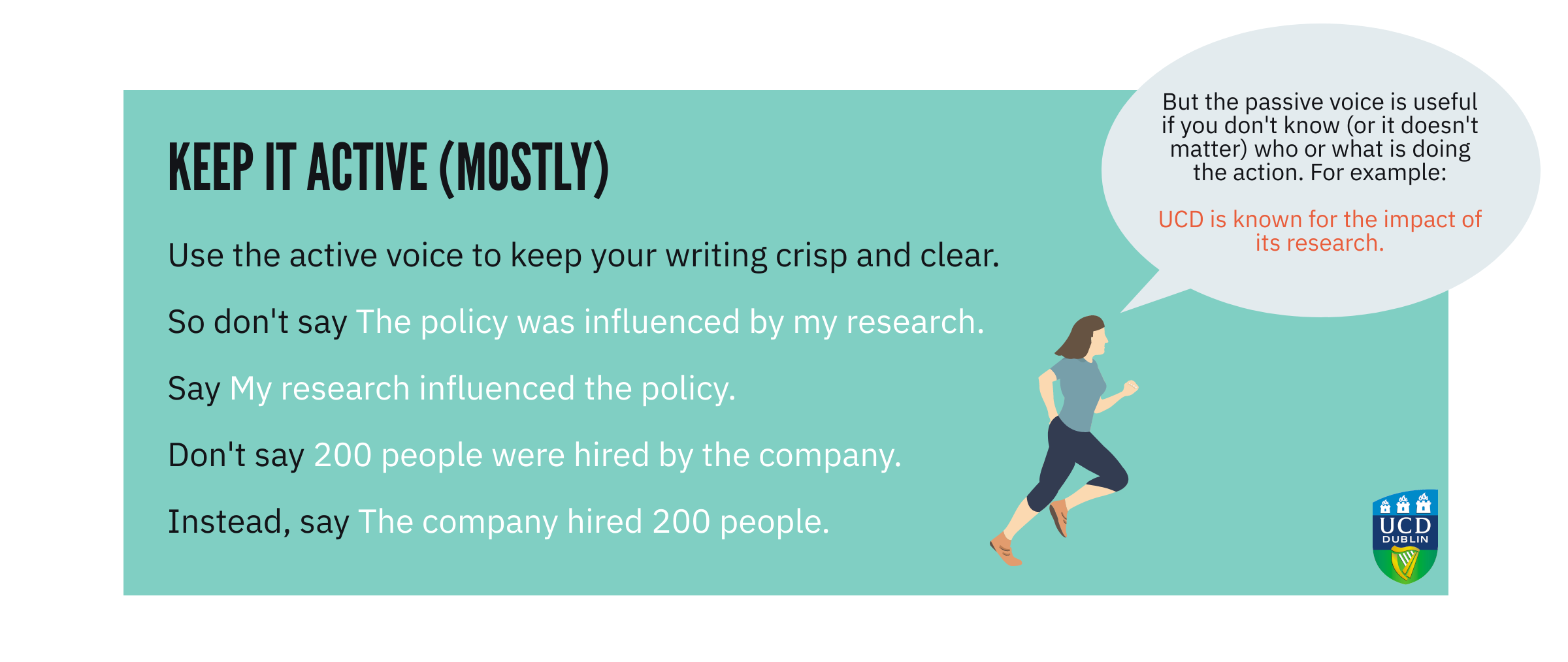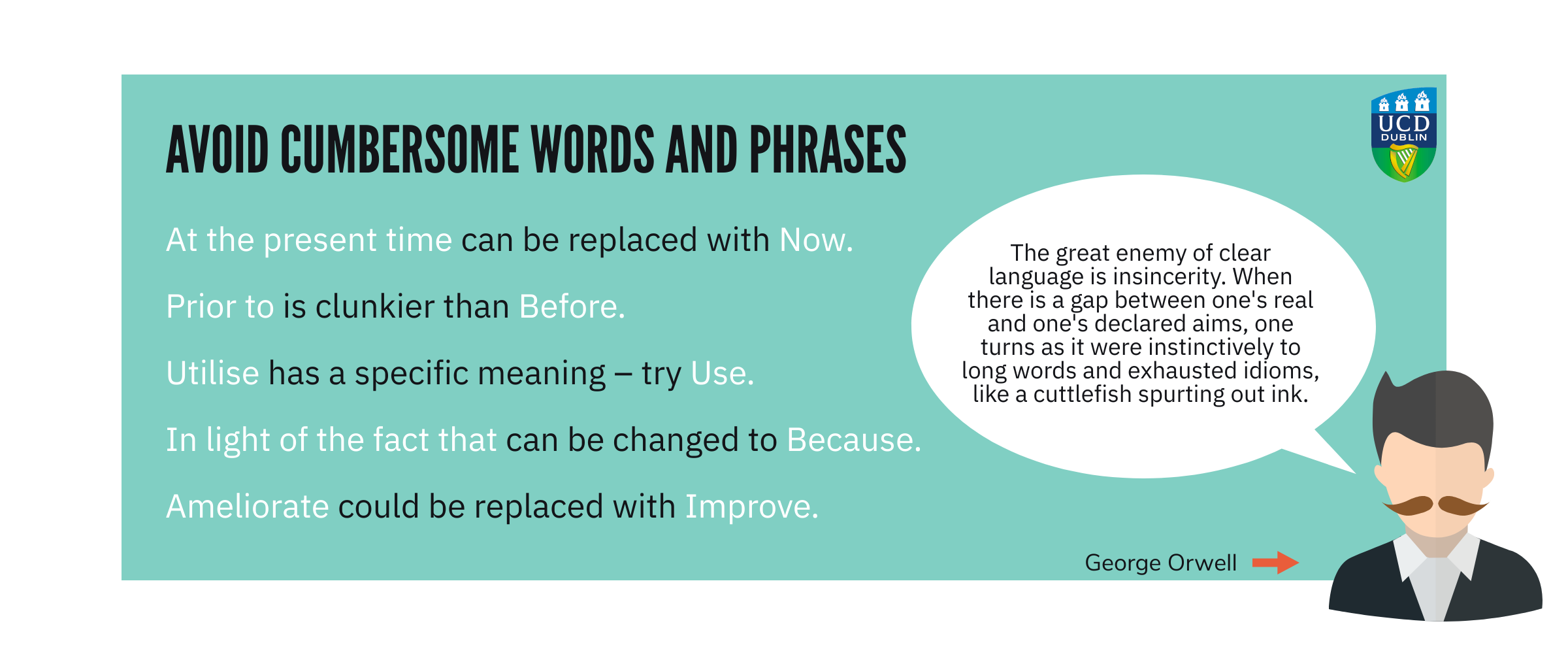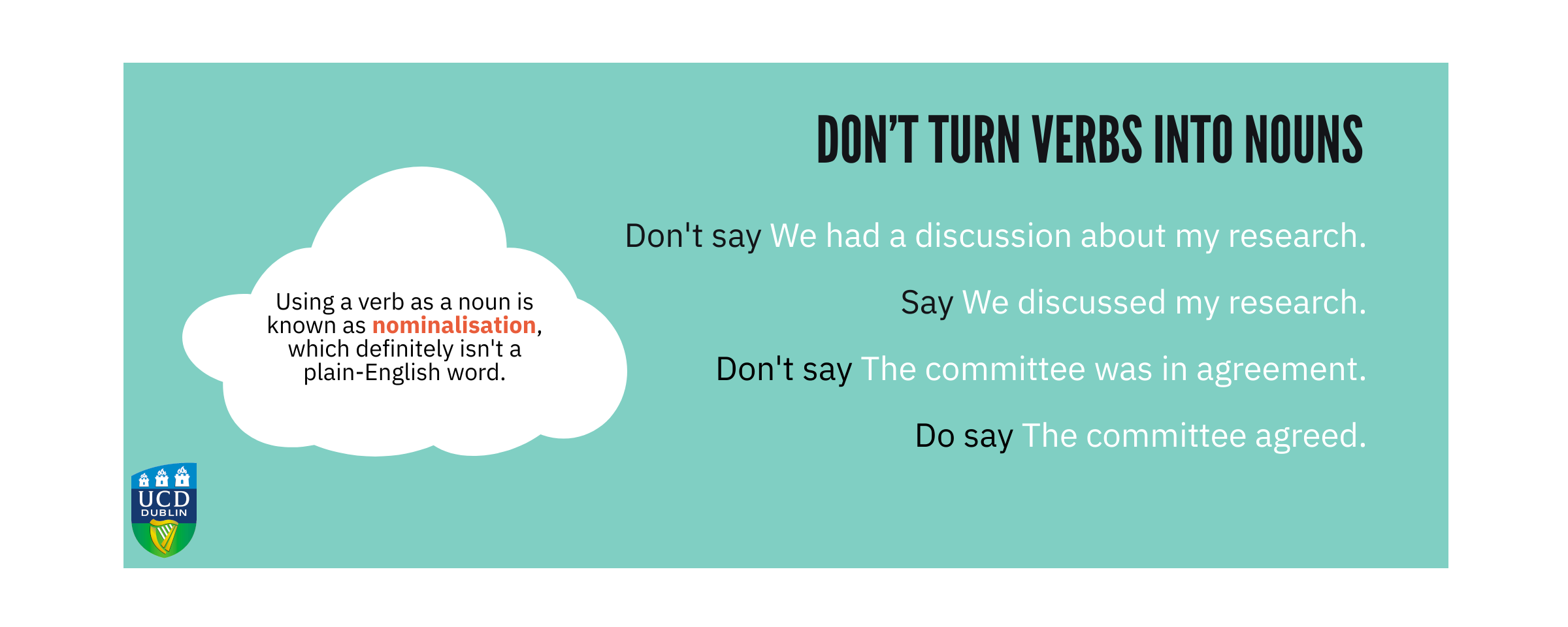 Avoid jargon
Use everyday language rather than technical jargon. Similes or analogies can be a useful way of communicating complex ideas in simple language, but try not to overuse them. If you only use a technical term once, consider removing it from your summary. Make sure any technical language is defined or explained when first introduced.
To ensure than non-experts can understand your summary, run it by a friend or family member ­­without a background in your field.

Identify the essence
Take a moment to work out your headline messages. Think about what your audience will find most interesting about your work (this will be easier once you've identified your audience and considered their needs). Then write a couple of short sentences – potentially including a surprising fact or fascinating statistic linked to your work – that will grab people's attention. Finding a compelling hook is crucial for promoting your research online, where space (and potentially people's attention spans) is more limited. It should immediately let the reader know what you did and why it's important.
You might find it useful to identify your headline messages after you've written your plain-English summary, since in many ways it will be a 'summary of the summary'.

Collaborate
Consider working with your target audience to co-write (or review) your summary, so that your key messages are more likely to resonate. Input from non-experts can also improve the clarity of your plain-English summary, helping to ensure it is truly accessible and engaging to a wider audience.

Include an image or video
Add some visuals to bring your summary to life. This could be a photograph (or abstract representation) of whatever you study, an infographic, a data visualisation, or any other suitable image.
If you have the expertise, or budget to hire a professional production company, you could even try creating a video summarising your work. There are many different approaches you can take here. Talking-head style interviews, for example, where you describe your research to the camera, are relatively quick to make. Hiring professional equipment and an editor can be expensive, however. Animated explainer videos, although time-consuming and sometimes pricey, are excellent at conveying complex information in a clear way. And presentations – in which you talk over a series of slides, images and existing footage – are relatively simple to produce, but can lack the visual flare of other video types. Visit our section on creating multimedia resources for more information on producing videos.
No matter what style you choose, sharing it across social media, and on websites like We Share Science, will draw more attention to your work than text alone.
Here are some of the finalists of UCD's Research Impact Case Study Competition talking about their research and its impact: