CDS Discussions in Disability Series
Epilepsy in Education Webinar Series
The UCD Centre for Disability Studies joins the UCD Neuropsychology Lab to present a free webinar series titled 'Epilepsy in Education'. Two webinars will take place on May 4th and 11th from 12.30 to 13.30pm. Guest speakers include Experts by Experience Danielle O'Rourke and Maria Carty-Mole who are joined by Dr Joyce Senior, Director of the Professional Doctorate in Educational Psychology and Dr Cathy Madigan, Principal Specialist in Paediatric Clinical Neuropsychology CHI at Temple St. The webinars are hosted by PhD candidate Clara Sherlock and academic supervisors Dr Michelle Downes and Associate Professor Christine Linehan.
If you would like to attend this event, you need to register in advance at this link: https://epilepsyineducation.eventbrite.co.uk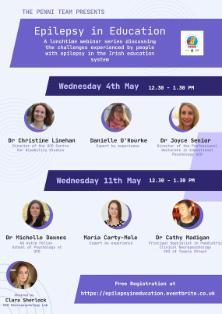 Youth Mental Health in the time of COVID-19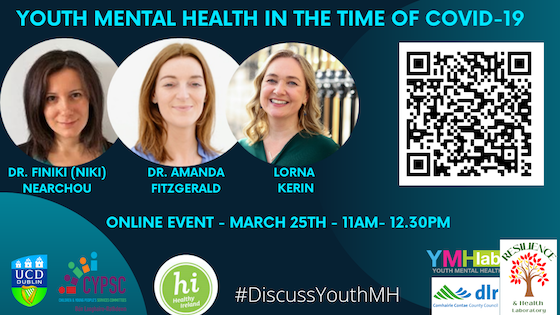 Dr Niki Nearchou will chair a lunchtime seminar on Friday March 25th from 11am to 12.30pm on her research in the field of Youth Mental Health in the time of COVID-19. Invited speakers include Associate Professor Amanda Fitzgerald, Co-investigator of the My World Survey and Lorna Kerin, Public Patient Involvement Manager at RCSI Medical.
To register for this event please visit https://www.eventbrite.com/e/youth-mental-health-in-the-time-of-covid-19-tickets-266817497317
Connecting locally: recognising the facilitators and overcoming the barriers to the social inclusion in neighbourhoods of adults with intellectual disabilities.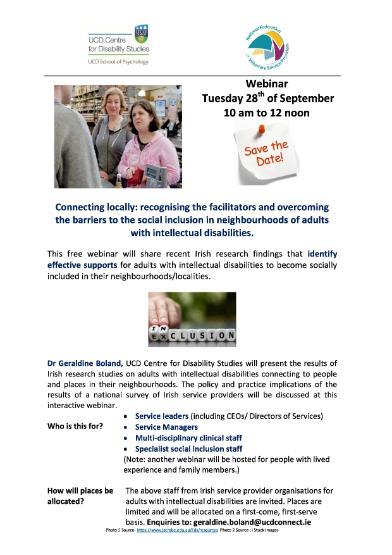 Webinar - Tuesday 28th of September 10 am to 12 noon
This free webinar will share recent Irish research findings that identify effective supports for adults with intellectual disabilities to become socially included in their neighbourhoods/localities.
Dr Geraldine Boland, UCD Centre for Disability Studies will present the results of Irish research studies on adults with intellectual disabilities connecting to people and places in their neighbourhoods. The policy and practice implications of the results of a national survey of Irish service providers will be discussed at this interactive webinar.
Who is this for?
Service leaders (including CEOs/ Directors of Services)
Service Managers

Multi-disciplinary clinical staff

Specialist social inclusion staff
(Note: another webinar will be hosted for people with lived experience and family members.)
How will places be allocated?
The above staff from Irish service provider organisations for adults with intellectual disabilities are invited. Places are limited and will be allocated on a first-come, first-serve basis. Enquiries to: geraldine.boland@ucdconnect.ie
UCD Centre for Disability Studies Discussions in Disability Series
Each summer, the UCD Centre for Disability Studies hosts an annual seminar on a topic of interest in the disability field. These seminars are open to all and aim to provide a forum for discussion and debate. All viewpoints are welcomed. Agendas from previous seminars are presented below. Further information on all seminars is available under the 'Disability News' tab on our website
2019 Youth Mental Health: Break the Stigma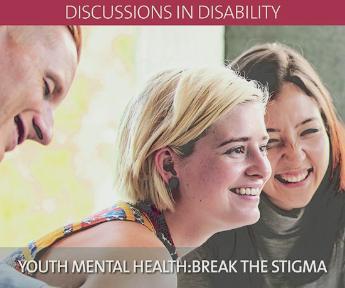 2018 Assisted Decision Making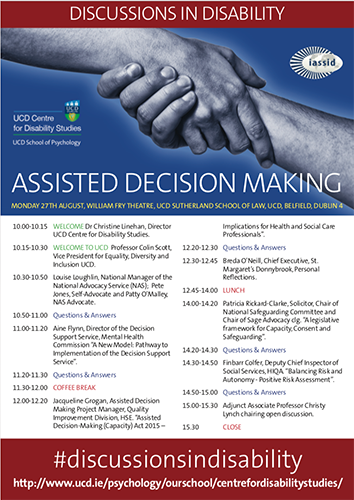 2017 Disability and Ethnic Minority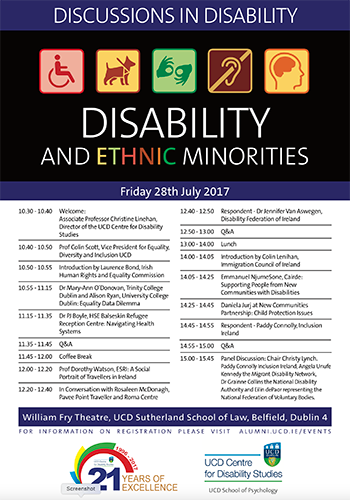 2016 Epilepsy and Intellectual Disability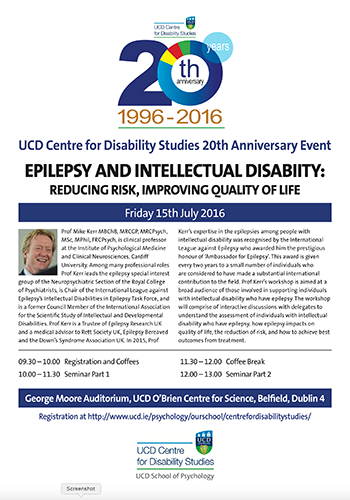 2016 UCD Centre for Disability Studies' 20th Anniversary