Megan Curran, first year PhD student at the School of Social Policy, Social Work and Social Justice, has published an article in the Journal of Academic Paediatrics (official journal for the Academic Paediatrics Association). The article "Child Poverty: The United Kingdom Experience" is co authored with Jane Mansour (@janemansour), consultant at the US Centre for Economic and Social Inclusion (Washington DC). Her article can be read for free here: http://www.academicpedsjnl.net/article/S1876-2859(16)00028-0/fulltext. This is a significant achievement for an early stage PhD student and the school would like to congratulate Megan on her outstanding work.
The paper compares child poverty in the United States and United Kingdom and shows how child poverty had been reduced much more successfully in the UK than in the US. A combination of concerted policy reform and favourable economic development has led to a significant reduction of poverty among British children (see figure below).
You can find out more about Megan's research at Academia and follow her on Twitter (@meganacurran).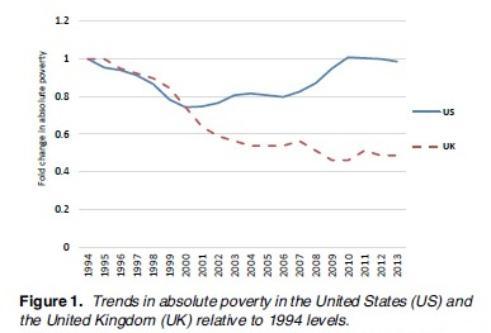 Contact the UCD School of Social Policy, Social Work and Social Justice
Hanna Sheehy-Skeffington Building, University College Dublin, Belfield, Dublin 4, Ireland. T:
+353 1 716 8198
| E:
sp-sw-sj@ucd.ie
|
Location Map