Rebecca O'Keeffe - Politics and History
Recently we caught up with UCD Politics and History alumna Rebecca O'Keeffe, who graduated in 2013, on her journey from politics and history to Beauty Editor at Her.ie.
Early Ambitions
Growing up, Rebecca saw her future on stage, or in the public eye, somehow. However, during secondary school, she developed a huge interest in history and the politics involved. "When you look at events in the lead up to 1916 and World War Two, for example, politics had a huge part to play in the resulting conflicts", explains Rebecca as she tells us about her path to where she is today.
Although politics on its own was not an optional subject during secondary school, we did get the opportunity to take part in a 'Model UN' competition whereby participants from several schools were given a country to debate on behalf of. I was representing Croatia and participants came to a UN-styled conference with the aim of each individual to use negotiating skills learned to get a proposed bill passed into legislation. Also, during transition year, I reached out to a local politician, Chris Andrews, to request I shadow him as part of my work experience. He agreed and I got to experience Leinster House and some of the goings-on and from here I knew I wanted to go on to study politics at third level. My ambition by now was to become the first female Taoiseach.
Making College Decision
Even though politics was something I was always interested in, I didn't want to do it on its own, I needed back-up and because I enjoyed history so much I felt it was a great fit to combine this with politics. I chose the BA in History and Political Science at University College Dublin. That's a really great thing about UCD. They offer such a diverse mixture of courses that you can combine which I had not come across with any other Irish universities during my decision-making process for college.
My experience until now had in some ways been a little sheltered. I always had the same group of friends from school and even going to UCD, a core group of my friends was also going but I was the only one who chose history and politics and that meant starting in a class where I knew nobody. The thought of making new friends was something I didn't have to think of since my childhood and this was a little daunting, to begin with. The classes in UCD can be huge, especially for the core modules. However, another great thing about UCD is that there are so many social activities going on, so you really don't find it difficult to make new friends. UCD offers the perfect combination of education and fun.
Learning history and politics was a great experience. The lecturers were so knowledgeable, engaging and made even the most uninteresting topics very interesting. Their ability to link historical and political events to modern-day situations, or the impact they have had or would have, made everything covered very relevant.
Benefits of UCD's Political Education in Your Career
Anybody with a political background has a good understanding of what is going on in the world. When I was getting into journalism and writing about beauty, it felt a million miles away from history and politics. However, I often meet with many other journalists covering broad subject areas and having politics as a background has meant I can really hold my own in conversations. Without it, I would have found this community much more difficult to become part of.
Job Motivation
My motivation comes from working with a very nice mix of staff in a positive environment at Her.ie. We laugh a lot at work, which is great. Having this basis makes it easy coming into work and helps develop some great ideas for content pieces too. I have friends who work in banking and legal firms, for example, and although they have great jobs which they generally love, they do not have the same level of fun on a daily basis and that really makes me feel lucky to be with a company which encourages this culture.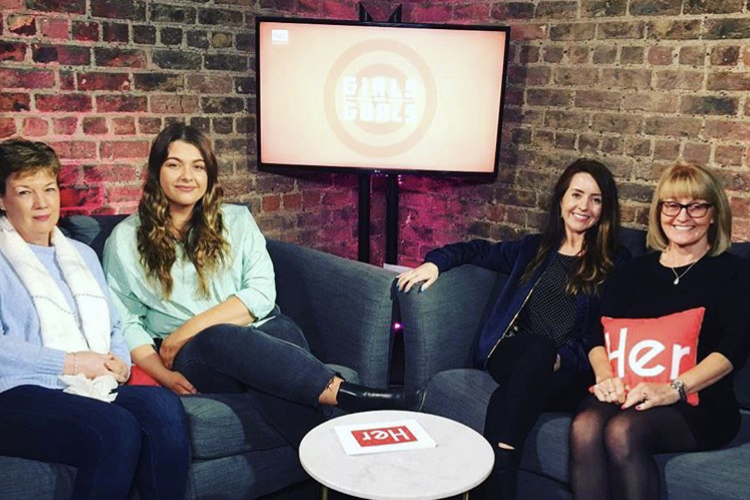 Rebacca and some co-workers at her.ie
Tips for Success
I am often guilty of suffering from imposter syndrome (a psychological pattern in which an individual doubts their accomplishments). So, often when I start a new job, I feel is it only a matter of time before I am found out and seen as incapable of fulfilling my duties. I am beginning to learn that if someone is hiring you, they are trained to do so and have complete confidence in your ability.
Listen to your heart. I was offered a job by Arcadia, owners of stores such as Miss Selfridge and Topshop, as fashion buyer for the company. I had traveled to London from Dublin for the interview and it was a grueling process. However, I decided that the time was not right for me and took on a different opportunity to go live in New York with no prospects, other than the adventure of living in a new city. At the time I had serious doubts as to whether I made the right decision. In hindsight, New York offered its own opportunities and it turned out to be one of the best decisions I have ever made. I would not be where I am today had I accepted the opportunity in London.
Opportunities for Social Science Students in Journalism
Media is changing rapidly. It is not a policy to hire just journalism candidates, rather individuals with diverse educational backgrounds. My advice on this would be to start studying what it is that you like, what you are interested in and will do well in whether it is politics, economics or psychology. Then start writing about things you like and build a portfolio. If you can tell a story well and want a career in journalism then there is nothing stopping you from making that happen.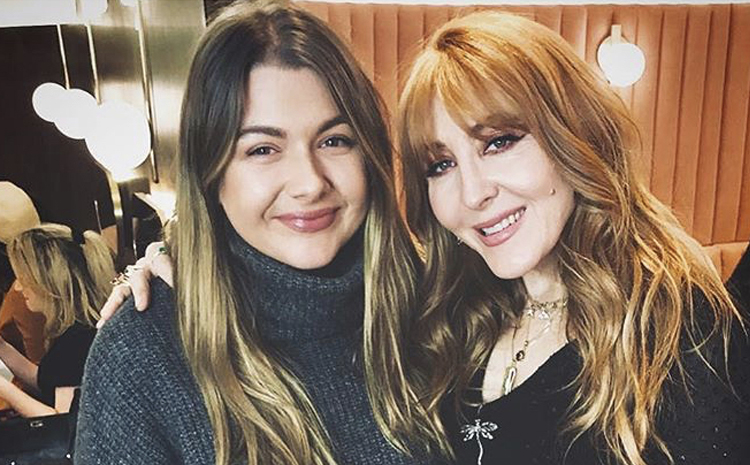 Recently Rebecca with world-renowned makeup artist Charlotte Tilbury
Value of the UCD Alumni Network
I am always in touch with people from UCD in one way or another. People from my class who have studied politics represent a diverse range of professions, which is nice. It is great to be able to tap into other professions for insights from time to time. People who have hired me in the past are also UCD alumni and the UCD currency really does last much longer than your time studying there.
If I woke up in the morning and wanted to do something else, I have such a great network of UCD Alumni friends who could really make this possible. Although it might not be easy, the contacts you make during your time in UCD will make it much less of a struggle.
Other Projects
Journalism these days is not just about pen to paper content. I had the opportunity to get involved in a podcast called Girls with Goals as part of my current role and it has been amazing. It's a show that gives incredible women a platform to talk about the amazing things they're doing. I'm lucky to be a part of it.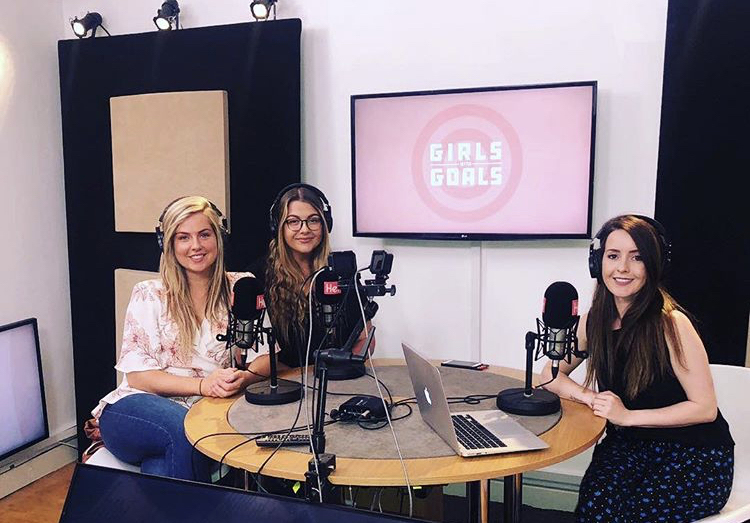 Rebecca during a recent podcast with Girls with Goals
UCD College of Social Sciences and Law
UCD College of Social Sciences and Law University College Dublin Belfield, Dublin 4, Ireland. T:
+353 1 716 7777