In Profile: Shauna O'Brien
In this edition of our Alumni Newsletter, we profile Veterinary Medicine graduate Shauna O'Brien who moved to Canada after graduation and continues to work there. Earlier this year, Shauna was recognised by the Ontario Veterinary Medical Association (OVMA) for her outstanding work when they awarded her the OVMA Rising Star Award. Shauna has stayed connected with the UCD School of Veterinary Medicine since graduation, and we are delighted to have her on board as an Alumni Ambassador. Shauna has been a huge asset to the School in this role, particularly in meeting with prospective students in North America and speaking to them about her experience as a student in UCD.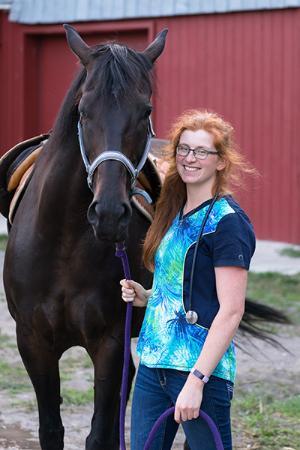 Shauna O'Brien graduated from the Veterinary Medicine (MVB) programme in UCD in 2017, and moved to Ontario, Canada shortly after. Once settled there, she began working as a mixed animal associate veterinarian at North Simcoe Veterinary Services and Midland Services. Her desire to provide the best veterinary care for 'all creatures great and small' is reflected in her rapidly evolving skillset, focused on internal medicine but with a talent for surgeries of all kinds.
Shauna is an advocate for staff of all levels in the practice, and has expanded her responsibilities within the practice, including veterinarian scheduling, social media, working with veterinary students and mentoring new graduates in both medicine and surgery. She is also on the Board of Directors for the Georgian Bay Veterinary Association, which provides continuing education for Simcoe County, and she volunteers both as a first response veterinarian for Ontario Turtle Conservation Centre and provides veterinary services for the Wye Marsh Wildlife Centre.
Each year, the Ontario Veterinary Medical Association (OVMA) honours the stars of the veterinary profession for going above and beyond the call of duty and inspiring others to do the same. The OVMA Rising Star Award is presented to an associate veterinarian, graduated in the preceding five years, who has demonstrated superior leadership in their place of employment and their community and is an advocate for the betterment of animal welfare and/or their clients, and/or their colleagues in the veterinary profession. Huge congratulations to Shauna on receiving this prestigious honour - we're very proud of what she's achieved since graduating and we have no doubt that her star will continue to rise for many years to come!
Contact the UCD School of Veterinary Medicine
UCD Veterinary Sciences Centre, University College Dublin, Belfield, Dublin 4, Ireland. T:
+353 1 716 6100
|
Location Map