Message from Professor Michael Doherty,
Dean & Head of School
Dear Colleagues and Friends,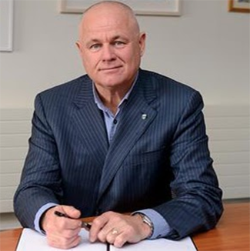 Thursday March 12th, ….'Taoiseach Leo Varadkar announces that all schools and universities will close and that indoor gatherings of more than 100 people and outdoor mass gatherings of more than 500 people will be cancelled' ….seems like a lifetime ago now. But in this unprecedented, unchartered, uncertain Covid-19 world, we run short of turns of phrase to describe the situation that we find ourselves in, the so-called 'new normal' – a virtual world of meetings on zoom and on-line delivery of teaching and assessment.

It is challenging for everyone; we worry about our families and friends, we worry about the future, but in the face of these challenges, I am deeply inspired and encouraged by the empathy and compassionate collegiality within our vet school. Everyone has responded in such a supportive way. Our students, who are experiencing great anxiety adapting to the uncertain world, genuinely appreciate the efforts being made.

There are so many inspiring stories within the school; staff and students assisting with the HSE helplines, assisting with the national Covid-19 epidemiological modelling, involved in Covid-19 specific research, with Covid-19 diagnostic laboratory training, with preparation of lysis buffers, with dissemination of animal-specific information on the virus; our veterinary hospital and its team continuing to provide an emergency service, leaving me feeling very proud of this School of Veterinary Medicine and its wonderful staff and students
Take care of yourselves everyone…Ní neart go cur le chéile…'together we will get through this.'
Michael
Follow the Dean on Twitter @dohertyvetdean
Contact the UCD School of Veterinary Medicine
UCD Veterinary Sciences Centre, University College Dublin, Belfield, Dublin 4, Ireland. T:
+353 1 716 6100
|
Location Map