In Profile: Dr Ann Derwin - UCD Alumni Award Winner 2018
Congratulations to Dr Ann Derwin (pictured with Professor Andrew Deeks, President of UCD and Professor Michael Doherty, Dean & Head of UCD School of Veterinary Medicine) who is the 2018 UCD Alumni Award Winner for Agriculture & Veterinary Science.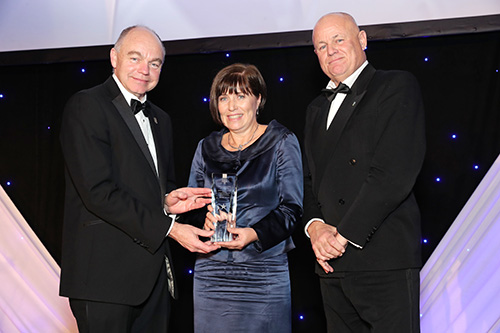 The night of Friday 9 November saw UCD bestow the Alumni Award for Agriculture and Veterinary Science on Dr Ann Derwin. After graduating from the Veterinary Medicine (MVB) Programme in UCD, Ann worked in mixed practice in Wales, Yorkshire and Donegal, before going on to set up her own small animal practice in Sligo town. She joined the Department of Agriculture as a veterinary inspector in 1992, and worked in Donegal for six years. Since then she has worked as Agriculture Attaché in Madrid before becoming Chief Economist with the Department of Agriculture. She was appointed Assistant Secretary in 2016, becoming the first woman to serve on the Management Board of that department. Ann has also completed a Masters in Agricultural Economics with Imperial College London and a Doctorate in Governance at Queen's University Belfast.

Ann is a passionate advocate in Ireland and internationally of the need to enhance the role of women in the agri-food sector. Since 2017, Ann has worked as Director General, Global Irish Services in the Department of Foreign Affairs and Trade where she also leads gender equality and diversity initiatives.

The UCD School of Veterinary Medicine is delighted and honoured to have had this opportunity to recognise and acknowledge Dr Derwin's work in the field of Veterinary Science and beyond.
Contact the UCD School of Veterinary Medicine
UCD Veterinary Sciences Centre, University College Dublin, Belfield, Dublin 4, Ireland. T:
+353 1 716 6100
|
Location Map