Recent Awards & Achievements
The last few months have seen a range of awards and achievements for staff across the School of Veterinary Medicine - from passing exams to research awards. Some of the highlights include:
John Mark O'Leary, Assistant Professor in our Equine Clinical Studies Section, recently passed his equine dental exams and is now a Diplomate of the European Veterinary Dental College (EVDC-Equine) - well deserved!
Congratulations to Ronan Mullins on receiving a prestigious Resident Award from the European College of Veterinary Surgeons! Ronan, who recently completed his Residency & DVMS studies here in UCD, is Assistant Professor in Small Animal Surgery. He's pictured with Dr Anna Adrian, co-founder and CEO of Vet Meet, who sponsored the award. ‌
Eoin Ryan, Assistant Professor from our Herd Health Team, won the Research and Development, Ruminant All Star Award at the Animal Health All Stars Awards 2018. Ciara Hayes, Resident in Bovine Health Management, was nominated for an award in the 'Rising Star in Animal Health' category. The awards are run and hosted by Coyle Veterinary Products CEO Michael Coyle. Congratulations to Eoin and Ciara!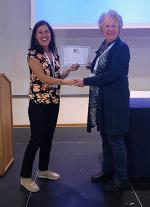 ‌Dr Maria Chie Niimura de Barrio (Assistant Professor in Veterinary Anaesthesia) received her Diploma from the President of the European College of Veterinary Anaesthesia, Dr Lynne Hughes, during the World Congress of Veterinary Anaesthesia in Venice, Italy on 26 September 2018. ‌
Professor Mark Crowe, Head of our Herd Health & Animal Husbandry section, was recently elected Chair of the Royal Irish Academy Life and Medical Sciences Committee for a 4 year term.