Recent Awards & Achievements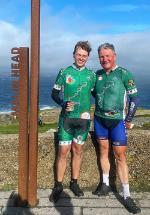 Well done to Eric Kane (pictured), UCDVH Animal Care Attendant, who recently cycled from Mizen Head to Malin Head for Cycle Against Suicide - a fantastic achievement for a really great cause!
Congratulations to Sourav Bhattacharjee, David Kilroy and Alison Reynolds who have published an article in the Journal of Anatomy on the importance of integrating knowledge of comparative anatomy and One Health in medical education. Read the article here: https://onlinelibrary.wiley.com/doi/full/10.1111/joa.13570
Colleagues John Wyatt (Project Manager) and Maurice Kinsella (Researcher) from the UCD Live Engagement and Attendance Project (LEAP) hosted a seminar on 27 October as part of the National Forum for Teaching & Learning Seminar Series. 'Engagement Monitoring & Remote Support Delivery in Online Environments' examined the activity and ongoing lessons learned from the project as part of the HEA Innovation and Transformation Fund.
Congratulations to Professor Simon More, who was recently re-elected Chair of the Scientific Committee (SC) of the European Food Safety Authority for a second three-year term. The SC is EFSA's overarching scientific panel, bringing together the Chairs of each of EFSA's ten Scientific Panels (focusing on different areas of the food and feed chain) plus six independent experts.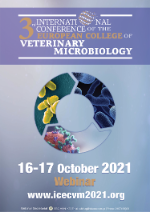 The European College of Veterinary Microbiology (ECVM) recently held a successful Third International Conference as a Webinar on 16 and 17 October. There were three themes: Bacteriology/Mycology; Virology; One Health/Food Microbiology/Antimicrobial drug resistance. There were 9 invited international speakers, 15 oral presentations, 49 posters and 106 participants in attendance. Professor Bryan Markey is currently President of the European College of Veterinary Microbiology.
Contact the UCD School of Veterinary Medicine
UCD Veterinary Sciences Centre, University College Dublin, Belfield, Dublin 4, Ireland. T:
+353 1 716 6100
|
Location Map