You Said, We Did...Thank you for Feedback on our MVB Programme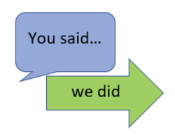 Thank you to everyone who participated in our MVB programme evaluation over the past three years. There was a good response rate from both alumni and employers to our surveys and focus groups. The key questions focused on how prepared graduates are to begin work as a veterinarian. Data collected and analysed from both alumni and employers indicated similar findings.
Key areas of strength:
Strong knowledge base

Committed lecturers and support teams

Broad range of species and experiences
We use a 'you said, we did' approach - here are some of the key findings from what you said regarding areas for improvement and what we have done:
| Your feedback on areas for improvement | Our Actions |
| --- | --- |
| More financial awareness and business skills relating to running a practice, as well as considerations when making decisions about treatment plans. | Embedding a vertical business / financial theme in the programme with relevant content now being taught in years 1, 3 and 4. |
| More opportunities to develop communication skills. | Communications Skills training (simulated consults with actors) is now a core activity in Year 3 (basic, routine consults) and Year 4 (challenging consults, delivering bad news). |
| More opportunities to develop and gain confidence in basic clinical skills and emergency and critical care. | Embedding a clinical skills curriculum and introducing more practical assessment of clinical skills. The Clinical Skills Centre is further resourced to be available to students for practice and strongly promote self-motivated engagement as this is critical to mastery of technical skills. |
| Build confidence to feel prepared to commence employment. | More active learning strategies such as case-based learning and evidence-based approaches to support decision making and informed action. |
Your feedback is instrumental to continuous improvements in the programme - we look forward to hearing your views again in the coming years.
Further information: If you would like further details of these feedback opportunities, please contact Sue.Rackard@ucd.ie
Contact the UCD School of Veterinary Medicine
UCD Veterinary Sciences Centre, University College Dublin, Belfield, Dublin 4, Ireland. T:
+353 1 716 6100
|
Location Map