One Welfare Event for World Animal Day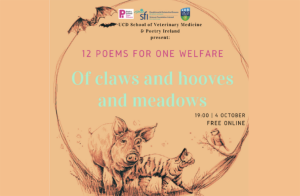 With support from the Science Foundation Ireland Discover Programme, Professor Alison Hanlon from the UCD School of Veterinary Medicine and Poetry Ireland were delighted to present the online launch of Of Claws and Hooves and Meadows: 12 poems for One Welfare on World Animal Day (4 October). One Welfare recognises the interconnection between the well-being of humans, animals and the environment. The event featured four newly commissioned poems each on a One Welfare theme: Caged, Kinship, Wildlife and Beloved. The poets were introduced by scientists from UCD and Queens University Belfast working in animal welfare, to create a bridge between poetry and science.

Poets Moya Cannon, Conor Cleary, Martin Dyar, and Roxanna Nic Liam read their specially commissioned poems at the online event and were joined by scientists Prof Siobhan Mullan (UCD), Dr Gareth Arnott (Queens University Belfast), Laura Griffin (PhD student, UCD) and Dr Grace Carroll (Queens University Belfast) who provided broader reflections on animal welfare science. Together, the poets and scientists explored the ways in which the COVID-19 pandemic has shed new light on the relationship between human beings and the clawed and hooved creatures with whom we share the earth.
You can listen back to this thought-provoking event here:
Contact the UCD School of Veterinary Medicine
UCD Veterinary Sciences Centre, University College Dublin, Belfield, Dublin 4, Ireland. T:
+353 1 716 6100
|
Location Map