UCDVH News
UCD Veterinary Hospital ER Service for Small Animals
Here at UCD Veterinary Hospital we provide a dedicated small animal emergency service to our veterinary colleagues from all over the island of Ireland. The service is run by a team of individuals who strive to improve the management and outcome of emergency patients.
The service is primarily led by an internal medicine specialist alongside specialists in training (residents) and interns. Nurses from different departments within the hospital are also instrumental in the running of this service. Depending on the specific case, the service utilises specialist opinions from Surgery, Diagnostic Imaging, Oncology and Anaesthesia and together this multidisciplinary approach provides the best possible care for animals referred for serious medical conditions.
We commonly see patients for further investigation and treatment of serious cardiac diseases, respiratory diseases, oncological emergencies, bleeding disorders, endocrine emergencies, gastrointestinal diseases, kidney diseases, liver and pancreatic diseases and neurological emergencies. These cases frequently utilise many of our state-of-the-art facilities including our in-house laboratory, echocardiography, radiography, ultrasonography and advanced imaging in the form of CT and MRI scanners.
We are happy to see all types of medical emergencies and aim to see such cases within 24-48 hours. We are also happy to give advice to our general practitioner colleagues upon request.
UCDVH Webinar Series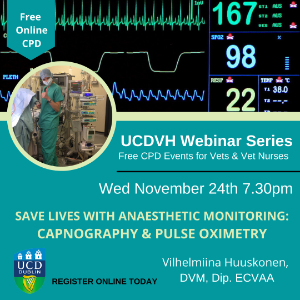 The UCD Veterinary Hospital Webinar Series, offering monthly CPD events to veterinary professionals, continues to go from strength to strength. Started in December 2019 by Benoit Cuq and Kevin Murtagh as the UCD Veterinary Hospital CE Club, events originally took place face to face, however, as with so many events over the past 18 months, it was moved online and subsequently became the UCDVH Webinar Series. There has been a hugely positive response from participants to the new format and the event continues to deliver a high quality CPD offering to vets and vet nurses.
Webinars are held on the last Wednesday of each month, with discussions on topics of interest relevant to veterinary practitioners and veterinary nurses. The team at UCDVH feel privileged to deliver these high quality CPD sessions to our veterinary colleagues from all over Ireland (and beyond) and look forward to each session.
The final UCDVH Webinar Series session of 2021 will take place on 24 November 2021 at 7:30 pm. 'Save lives with anaesthetic monitoring' will review how easily available tools can make a big difference for your patients with the use of capnography and pulse oxymetry. This webinar is intended for Veterinarians and Vet Nurses and will focus on anaesthetic monitoring of canine and feline patients. The webinar will be presented by Dr. Vilhelmiina Huuskonen, DVM, DipECVAA from the UCDVH Anaesthesia and Analgesia Department.
This is a free event for veterinarians and veterinary nurses but registration is essential. To RSVP please follow the link below and include your VCI number to receive a certificate:
https://ucd-ie.zoom.us/webinar/register/7516360999810/WN_Yb-DKfKVTj6GLPdja4XfDw
Contact the UCD School of Veterinary Medicine
UCD Veterinary Sciences Centre, University College Dublin, Belfield, Dublin 4, Ireland. T:
+353 1 716 6100
|
Location Map