Fullbright Scholarship awarded to Dr Danny Johnston at virtual ceremony
Published: 14 June, 2021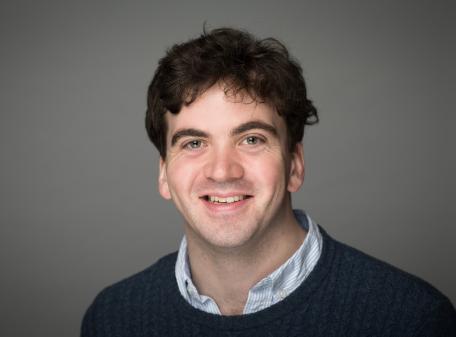 Dr Daniel Johnston was one of eight students and scholars at University College Dublin, to be awarded a coveted Fulbright scholarships, at an online awards ceremony on Thursday 10th June, enabling them to take up roles at some of America's best universities and institutions and collaborate with their U.S. counterparts.  Founded in 1946, it has enabled academic and cultural exchanges between more than 2,500 Irish and American citizens since 1957.
Dr Johnston is currently the AbbVie Newman Fellow in Dermatology, based in the UCD Charles Institute of Dermatology, where he researches the underlying causes of inflammatory skin disease with the Tobin Lab Group.
He completed his undergraduate studies and PhD research in Immunology at Trinity College Dublin, before undertaking postdoctoral research at the University of Oxford where he held the Bryan Warren Junior Research Fellowship at Linacre College.
Daniel will use his HRB-HealthImpact Fulbright scholarship to apply data from single-cell RNAseq studies to the in vitro modelling of the inflammatory skin disease hidradenitis suppurativa (HS). The work will be carried out in Spring 2022 in the lab of Dr Jose Ordovas-Montanes of Boston Children's hospital, Harvard University and the Broad Institute, which will generate new relationships for the mutual benefit of his host institution, UCD Charles Institute, and for inflammatory skin disease research in Ireland.
Minister for Foreign Affairs, Simon Coveney T.D: "The role of Fulbright Awardees in driving international research and keeping global channels of communications open is more important than ever as the world is reinvigorated over the coming years. Fulbright has always propelled collaboration between the brightest minds. I wish this year's awardees every success for their time in the United States." 
Ambassador of Ireland to the United States of America, Daniel Mulhall: "I am delighted to extend my warmest congratulations to the Irish Fulbright Awardees for 2021 – 2022. Exchanges like the Fulbright programme play an important role in strengthening the unique relationship that Ireland and the United States share. I look forward to welcoming them when they arrive here."
Congratulations to Daniel and all the other UCD Awardees on this prestigous honour.
For more information:
https://www.ucd.ie/newsandopinion/news/2021/june/14/fulbrightawardseightucdscholarsselectedforcovetedtransatlanticprize/